North Castle Forum Looks to Allay Fears Over PFAS Water Contamination
We are part of The Trust Project
Health and environmental experts and town personnel updated North Castle residents last week who have been concerned over possible PFAS contamination in their drinking water and how they can monitor and remediate their water sources.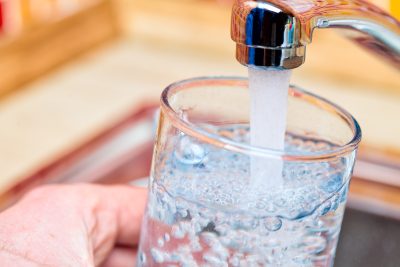 At a Mar. 1 public forum at Whippoorwill Hall in Armonk, state Department of Health and Department of Environmental Conservation (DEC) officials said there are two investigations being conducted by the agencies affecting about 400 properties in town to determine if drinking water has been polluted – the Westchester Garden Center-Labriola Landfill site and the Armonk private wells investigation.
Melissa Doroski, a project manager for the state Department of Health's Bureau of Environmental Exposure Investigation, said all property owners within the study areas were solicited for free sample testing of their wells once the areas were designated. The DEC designated the landfill as potentially a hazardous waste site in June 2021.
If a property owner either missed the solicitation or may be near the study areas and is concerned about their water, Doroski recommended residents contact Westchester County Health Department or the DEC to see if sampling can be done.
"We can determine where your location is, if it falls within a program that's already occurring, from an investigation that's occurring, we can help look into whether we can sample as part of these programs," Doroski said.
The forum was organized after there has been growing uneasiness over the past year-and-a-half that an increasing number of areas in town may be affected. Both PFOA and PFOS are part of a larger group of compounds known as perfluoroalkyl substances (PFAS). They are found in many commonly-used products, such as water-resistant clothing garments and stain-resistant carpets, said North Castle Planning Board member Jim Jensen, an engineer who moderated the forum.
In addition to private wells, three wells in two of the town's municipal water systems, also saw levels over the 10 ppt limit. PFAS had been detected in one well in Water District No. 4, located at School Street, which mainly takes in about 450 properties in downtown Armonk, and two supplemental wells in Water District No. 2, which includes the 365-parcel Windmill Farm development, said Water and Sewer Director Sal Misiti.
Misiti said the town is designing steps to remediate the situation in the two districts; however, since it has the ability to blend water from different municipal water sources there is no immediate danger to residents.
"We do have detects in certain water sources in the district and we have a plan and we're working on that with the consultant and try to remediate the issue and have treatment to remove all of (the PFAS) going forward," Misiti said. "At the end of the day, what goes out into distribution isn't over the 10 ppt at this point."
Ryan Manderbach, the town's consultant from Langan Engineering, said he has recommended the ion exchange system to treat PFAS from the public water supply, one of two technologies used to remove the chemicals. Another option is granulated activated carbon.
Designs will be submitted as early as this week to the town. Then it will be submitted to the county Department of Health for review and to start the testing during the second quarter of the year, which should run for up to three months, Manderbach said. Breakthrough detections are not expected, he said.
"We expect the test to be successful, and at the conclusion of the test, we would have advanced the design study because of our confidence in the technology, and we expect to submit that to the town in the fall," Manderbach said.
The Westchester Garden Center-Labriola Landfill site covers roughly seven acres about .4 mile south of the Wampus Lakes Reservoir. Located within a residential neighborhood bounded by Wampus Lakes Drive to the southwest and northwest and the Westchester Garden Center to the northeast, the 3.5-acre landfill operated from 1954 to 1974, accepting mainly lumber and building debris.
A groundwater contaminant test result showed elevated levels of PFOA of 34 parts per trillion (ppt) and PFOS of 21 ppt. The state lowered the maximum contaminant level standard from 70 to 10 ppt in July 2020.
Even if a resident is not in the study area, it doesn't mean they won't be added.
"We're always reassessing that area, and once we get the data in and we see what it looks like, there's the potential for expansion," said Fay Navratil, program coordinator for the state Department of Health's Inactive Landfill Initiative.
The Armonk private wells investigation, which takes in about 3.2 acres around Maple Avenue, Main Street and Bedford Road, is about a mile southeast of the landfill. Three dry-cleaning businesses operated within a quarter-mile of the site, contributing to the release of chlorinated solvent contamination to the groundwater.
The site was added to the State Superfund Program in 1986. DEC has monitored an on-site groundwater treatment system to treat tetrachloroethylene, the site's primary contaminant of concern.
Navratil said if a test comes back above 10 ppt, the state Department of Health recommends and alternative water supply and the agency works with the DEC to provide them with an alternative source.
Despite known contamination from Westchester County Airport, it is too far away from any residences to be considered a potential source of North Castle's contamination of residential wells or the public system. The county will be installing a treatment system to help protect the New King Street area. Airports over the years have used firefighting foam in drills, which are known to contain PFAS.
"My understanding is that it's over five miles away from this location and groundwater is flowing in the opposite direction, so I don't believe we would consider it a source of the contamination, Doroski said.
If residents have questions or need more information, they should visit https://www.northcastleny.com/home/pages/nys-dec-emerging-contaminant-pfas-sampling-initiative on the Town of North Castle's website.