No. Castle, Developer in New Spat Over Storage of Road Millings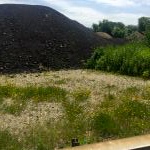 The Armonk developer who has recently sued North Castle Supervisor Michael Schiliro charged last week that the town is illegally storing tons of road millings on municipal property, an accusation that officials have repeatedly refuted.
Within the past two weeks, town board nemesis Michael Fareri has sent out town-wide e-mail blasts that included a letter he sent to Schiliro's offices alleging that North Castle has failed to initiate a formal environmental review and obtain the required state Department of Environmental (DEC) permits to store the material.
The town is storing the millings, derived from its aggressive road repaving program, at the Highway Department facility in downtown Armonk, a town-owned yard on Middle Patent Road and at Fountain Park in North White Plains. Officials are temporarily holding onto the millings in hopes that other municipalities in the area or private entities such as developers or corporations will take the free material for their own projects, said Town Administrator Joan Goldberg.
Thus far, the Town of Mount Pleasant has taken some of the millings, but no other municipality or private organization has done so, she said last week.
Fareri argued that the highway garage is in close proximity to the Byram Brook and the Middle Patent Road yard is adjacent to the Mianus River Gorge, posing an environmental threat to those watercourses. He also said that millings storage at the highway facility in Armonk creates an eyesore and suppresses the value of nearby properties, including his own.
"It seems like everyone is putting their heads in the sand here," Fareri said. "I believe the supervisor has been negligent in this effort and the town Highway Department and the town administrator have been negligent."
As of last week, the town had accumulated between 40,000 and 50,000 tons of millings, Goldberg said. When crews repave, about one to two inches of asphalt are scraped off the top so the surface doesn't elevate, thereby preventing runoff and the potential flooding of properties and the roadway, she said.
Road work started in early May, and as of June 29, 7.45 miles of town road have been repaved this season, according to Highway General Foreman Jamie Norris. The town has planned to complete 10.84 miles of road work this year, and possibly as much as 15 miles if time and manpower allows, he said.
Schiliro immediately dismissed the developer's accusations last week, stating that the town is not required to obtain a permit for temporary storage of the millings. Officials have been in contact with the DEC to make sure they are in compliance with all laws and regulations.
He also said that Fareri's correspondences are full of baseless assumptions and his opinions, not facts.
"We're not processing the material. We have full disclosure with the New York State (DEC)," Schiliro said. "We communicate with them frequently and all the materials are being handled properly."
Calls and e-mails left with the DEC last Thursday and Friday to ask questions regarding regulations for the storage of millings and when North Castle would have to dispose of the millings were not returned.
Goldberg said the town does have a finite period of time to unload the millings but was uncertain what that timeline is. If takers aren't found, it would cost the town $10 a ton to haul and another $8 a ton for disposal, a potential cost of as much as $900,000 that the town is hoping to avoid, she said.
Schiliro said Fareri's protests about the millings have been repetitive over each of the past several years since the town began a more ambitious road repaving effort. In each case, the situation hasn't changed.
In the past five years, North Castle has repaved roughly 30 miles of road. If it can complete 15 miles this year, it would be nearly halfway done with the town's 93 miles of road, work that many residents have told officials they want to see done, Schiliro said.
"If anybody here or watching at home wants us to pave less, call my office," Schiliro said at the June 28 town board meeting. "I'd love to talk to you about it."
However, Fareri compared the millings storage to the bungled Westwood Organic Recycling episode about seven or eight years ago. A previous town board contracted with that company to accept leaves and other compostable material and have Westwood Organic process it at the Highway Department facility in Armonk. When residents, including Fareri, complained, the town was forced to find a way to exit its contract.
"This is not going to go away just like the Westwood situation went away," he said.
On June 12, Fareri filed a civil rights lawsuit against Schiliro in federal court in White Plains, accusing the supervisor of denying him the right to speak about his projects at a public meeting and prohibiting his access to town employees.