No. Castle, County Celebrate New Armonk Affordable Housing Project
We are part of The Trust Project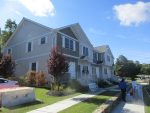 North Castle officials were joined by County Executive Rob Astorino for a ribbon-cutting ceremony last week to celebrate the 10 newest units to Westchester's affordable housing inventory.
Armonk Commons, built by the Port Chester-based Lazz Development on Old Route 22, features two townhouse buildings each containing five units. Six families moved into the residences over the summer with closings expected in the near future for the remaining four units.
All of the units, which measure 1,100 to 1,200 square feet, feature two bedrooms, two full bathrooms and a half-bath. Sale prices were $208,000 for six of the residences and $218,000 for the four end units.
"We're very proud of this project," said town Supervisor Michael Schiliro. "The Town of North Castle has long been a supporter of affordable-type housing. We had affordable-type housing in our town 20-plus years ago."
The town board's approval of a local law in 2014 based on a version of the county's model ordinance that was drafted as part of Westchester's affordable housing settlement with the federal government helped to pave the way for the project. Prior to passing that law, North Castle had a middle-income housing program for more than two decades with slightly different maximum income thresholds that helped build more than 30 units.
Lazz Development President Lou Larizza, who has built more than 200 units of affordable housing in Westchester during the past 25 years, said municipalities across the county are warming to the idea of having affordable units in their communities, particularly if it's for ownership. Officials have realized it brings people who may not otherwise be able to afford to live in their towns, such as young adults or those making lower salaries but working at needed jobs
The residents can put down roots, obtain equity and have something at stake, Larizza said.
"It gets easier to do moderate income housing because municipalities realize that it's home ownership and when people own their own homes they take care of it," Larizza said. "It doesn't matter if you make a million dollars a year or make $20,000, when you own something you take pride in it."
The units were available to families with a maximum $71,360 salary for a two-person household, $80,240 for a three-person household and $89,120 for a four-person household. The project includes finer points such as stone walls in front and in back and hardwood floors.
Astorino said the county contributed $1.7 million through its affordable housing funds for Armonk Commons, including contributing $250,000 toward North Castle's infrastructure improvements, such as new sidewalks so the residents can walk to downtown Armonk.
"Lou has done a tremendous job really everywhere he builds, but this is another perfect and prime example of what affordable housing can and should look like," Astroino said.
The town is also putting in $750,000 to $1 million in improvements, including resurfacing Old Route 22, adding 62 parking spaces and installing new light fixtures on the street, Schiliro said.
For more information on affordable housing units in Westchester, information sessions and income guidelines, visit www.westchestergov.come/homeseeker or contact the Housing Action Council at 914-332-4144 or e-mail hac@affordablehomes.org.