No.12 Somers Advances to Class A Semis for 1st Time Since 2011
News Based on facts, either observed and verified directly by the reporter, or reported and verified from knowledgeable sources.
We are part of The Trust Project
No.1 Panas Ousted as Baseball Gods are Unforgiving to Most Locals
By Ray Gallagher, Examiner Sports Editor @Directrays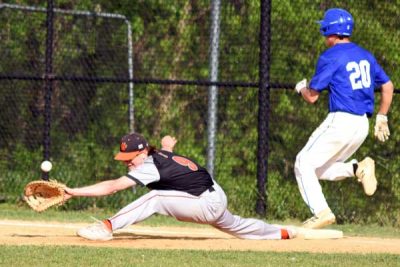 We told you last week in this space that the Baseball Gods are unforgiving, and top-seeded WALTER PANAS was quick to find out when Coach Anthony Fata's Panthers (19-3) suffered a 4-2 Section 1 Class A quarterfinal loss to No.9 Nanuet.
While that might have been the toughest pill to swallow, Panas wasn't the only high seed to drop from championship consideration last Wednesday. No.4 Class AA CARMEL was wiped out 7-0 by visiting No.12 WHITE PLAINS, and fourth-seeded CLASS A BYRAM HILLS was skunked at home by surging No.12 SOMERS, 11-2.
And the Tuskers, as of press time Monday morning, were the lone team from the Northern Westchester/Putnam region standing, as they steamrolled into the Class A semis with an 8-1 win over No.9 host Nanuet in the four-team double elimination semifinals.
Yes, baseball can be brutally cruel, and that is why many consider it the toughest of all championships to win.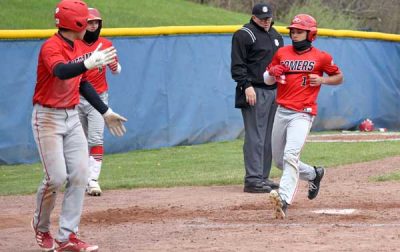 CLASS A
The brackets weren't just busted; one side of it was completely shredded when Panas and Byram Hills were sent packing. Somers has had a most impressive run, going 10-3 over the last 13 games. Coach Anthony Nappi's Tuskers (12-9) have seen great efforts from ace Stefan Swee all season long, but he may have pitched his finest game to date against a sensational Byram Hills program. Swee went the distance, allowing no earned runs while scattering seven hits. He whiffed three, walked one and pitched to contact behind a tight defense.
"Swee was great and our defense has been the difference," Coach Nappi said. "Beginning of the year we would have one inning where a mistake or two cost us, and we've done a much better job limiting the damage if a mistake happens. We've always felt like we were close to making a run and right now we're believing in ourselves and staying focused on the task at hand."
Tusker junior OF Ravi Dass set a mean table, and both he and senior SS Matt Kapica both went 4 for 5. Kapica (2 runs, 2 RBI), Dass (3 runs) and senior John Roublick (3 for 4, 4 RBI, 2 runs) came up huge.
Somers freshman RHP Andrew Kapica maneuvered through five tough innings without an earned run allowed in the win over Nanuet, striking out five.
"He battled through," Nappi said. "Andrew didn't have his best stuff, but I'm so proud of him and this team to be where we are right now."
His older brother, Matt, a shortstop by trade, did have his best stuff in the seventh. Matt Kapica struck out the side to finish the game and advance Somers to its first semifinal since 2011. A win last night over Nanuet would set the Tuskers up for the Rye/Eastchester survivor and would put the Tuskers in their first championship since 2009, the end of their three-peat dynasty when the great Dan Zlotnick fired a no-hitter against Lakeland for the Class A crown.
Tusker Brandon Iorizzo (2 hits, 2 walks, 2 RBI) and John Roublick (3 hits, 3 runs) sparked the Somers offense.
Previously, Somers knocked off No.5 Pearl River, 4-2, behind a solid outing from P George Creighton. The junior hurler went six strong innings, allowing two runs while fanning eight to earn the W. Andrew Kapica picked up the save. After inheriting three runners in the bottom of the seventh, the younger Kapica induced a double play and a strikeout to end what was a major threat.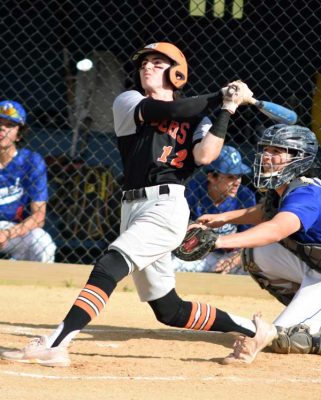 Junior C Evan Carway cracked a key two-run dinger for the Tuskers while Dass had two hits and a walk to score a run. Junior DH Eddie Baranowski had two hits and drove home a run.
"I'm just so proud of this team," Nappi said. "We had a ton of adversity to start the year and we were left for dead after a 3-6 start. We fought to get where we are now."
No.11 YORKTOWN took out No.6 Harrison, 1-0, in eight innings when ace Matt Alduino fired a two-hitter with 13 whiffs for the best win of his career. The Husker defense gunned down two Harrison runners at home plate on back-to-back plays to end the game; Jon Munoz to Nick Jacoby to Brad Garrity for one, and Cole Haddock to Garrity for the other game-saving plays. Derek Patrisi knocked in the game's only run.
The Huskers were then foiled in the quarterfinals, losing 5-4 to No.3 Eastchester where Stephen Haglund tripled and drove home two runs for the Huskers.
The Eagles also ended LAKELAND's season with a 10-0 win over the 14th-seeded Hornets (10-12).
PANAS won its opener, 6-3 over No.17 Pelham when ace P Jackson DiLorenzo went the distance and went yard. Aidan Cohall, Sam Stafura, Tony Humphrey and Travis Carlucci each added an RBI, but the bats went cold against Nanuet sophomore P Aidan Kemp, who went the distance and limited Panas to three hits.
"The kid from Nanuet was crafty and really kept us off balance," Panas Coach Anthony Fata admitted. "He spotted his fastball well and off-speed stuff was pretty good. We'll learn from this. I have confidence in this group coming back. We're going to miss Aidan and Gavin (Carlucci), they were a big part of our success this season and gonna be hard to replace."
No.15 HEN HUD suffered a season-ending 13-3 loss to No.2 Rye in the opening round. The youthful Sailors (11-11) exceeded some expectations this year and return a bunch of talented sophomore hurlers for 2023.
CLASS AA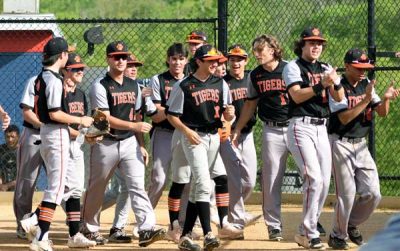 No.12 WHITE PLAINS P Sammy Mendez spun a gem in a 7-0 quarterfinal shutout of host CARMEL, firing a tidy six-hitter with four K's against the defending Class AA champion Rams (13-9), who simply could not string together enough hits for any sort of rally. Nicky Vendola crushed one over the LF fence and Ryan Conrad went 3 for 4 for the Tigers, who also knocked off No.5 OSSINING in the opening round.
Adam Torres, Jesse Alfala and Vendola all had RBI hits during a four-run sixth to blow the Carmel game open.
Sean DeBernardo pitched a complete game in the 8-5 win over the Pride, allowing five hits for the win. The red-hot Vendola and Daniel Cocciardi each mashed dingers for White Plains, which is still rolling along in the double-elimination semis with no wiggle room remaining.
Carmel walloped Port Chester, 13-4, in the opening round thanks to nine runs in the second. Michael Youngman had two hits and three RBI to pace the Rams. Carmel's Nevin Scaperotti added three hits, two RBI and two runs while PJ McGrory had two hits, two RBI and two runs. Carmel senior SS Kevin Dall doubled, had two hits, an RBI and two runs while fellow senior Brendan Murphy singled home a run and scored.
CLASS B
No.13 PUTNAM VALLEY busted up a bracket in its 8-7 opening-round win over No. 4 VALHALLA behind the pitching efforts of Sean and Arthur Holzman and Ryan Moriarty, who kept the Tigers (7-13) in it until Rick Meister's run-scoring triple won the game. The Tigers could not sustain that momentum and were knocked off in the quarterfinals by Rye Neck, 11-1.