News Based on facts, either observed and verified directly by the reporter, or reported and verified from knowledgeable sources.
No.1 Panas Rocks on in Class A, Fox Lane Hopes to Battle Back
We are part of The Trust Project
Class AA No.2 White Plains Banished; Croton Hopes to Rally in Class B; Haldane in Class C Finals
By Ray Gallagher, Examiner Sports Editor @Directrays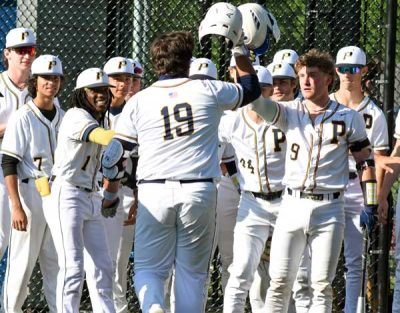 A youthful FOX LANE team, which starts six sophomores, will likely look back on the baseball tutorial they received from WALTER PANAS last Saturday with both shock and awe. It will serve them well down the line as they prepare to keep Fox Lane among the upper crust in Section 1.
Coach Matt Hillis' Foxes (11-11) saw first-hand that Coach Anthony Fata's Panthers (21-2) are – talent-wise –  among some of the finest teams in Section 1 history; no matter how this Class A tournament shakes out. Winning the first Section 1 title in Panas history would be the necessary confirmation of such a statement, but baseball is baseball and the Panthers know full well that nothing is given on the diamond.
"I wouldn't rather be on the field with any other group of guys, every single one of my teammates is my brother," Stetson-bound senior C Danny Witter said after improving his season-long numbers to .483 BA, .556 OB%. "The beginning of practices starting in March our coaches stressed that everyone has to buy in, whether it's getting that bunt down, or doing whatever we can to get a runner over. Everyone has worked so hard this winter to get to where we are now, but we just have to take it one game at a time, most importantly (the next game).
"Everyone is locked in, and we want to take Walter Panas to a place we have never been before," the exuberant Witters added. "It is unbelievable what we have done as a group to engage the community. We just have to keep up what we're doing and keep the good vibes going."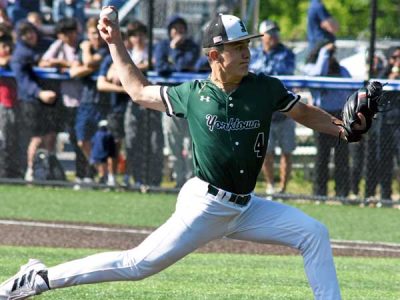 What shook out Saturday was an 11-1 semifinal win by the Panthers, who have put on a Murderer's Row display of power throughout the regular season and into the playoffs, where Panas has now sent BREWSTER and YORKTOWN (4-0) packing in the first two rounds while pushing the Foxes into the loser's bracket of the tournament.
"This may be the best high school team I've ever coached against," Hillis said between innings.
He won't get much argument throughout the section, certainly not from his staff or players after sophomore P Nick DiMaso went four innings in the mercy loss, allowing one run off two hits. He fanned three Foxes, who could not contain Panas junior DH Randy Wiesner, who mashed to the tune of 3-for-4 with two line drive yard bombs and five RBI. Clemson commit Sammy Stafura, who will go early in June's MLB draft, finished 2-for-3 with a double, triple and two knocked in. Stetson-bound C Danny Witters and Austin Pagliettini each stroked two hits and drove home a run while Cameron Hawley went 2-for-3 (2B, RBI). Boston College-bound Panas senior CF Tony Humphrey added a hit and a run.
Will Rudolph belted a pair of hits to lead the Foxes, who will enter the loser's side of the semifinal bracket to face No.3 Harrison, who knocked off defending Class A champion Somers, 9-1, in the opening round. The Panthers will host No.10 John Jay – CR.
The 14th-seeded Tuskers (10-12), unfortunately, failed to meet expectations this season after shocking the section a year ago.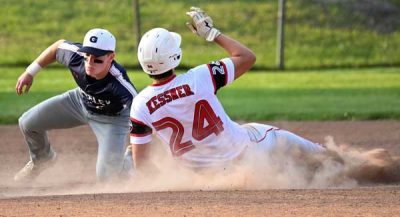 Fox Lane broke up one side of the bracket in a 2-1 quarterfinal win over No.4 Rye where Nick Dellorso's first varsity home run was the offensive difference and ace P Tyler Renz, who chucked a complete-game three-hitter with nine strikeouts, was the horse the Foxes rode in on. The Foxes opened the tournament with a 19-2 pasting of No.5 Pearl Rive behind an eight-run second. Sophomore P Nick Dellorso got the win and supported his cause at the plate (4-for-5, 3 RBI). Jack Shurgin (3-for-3, 3 RBI) and Rudolph (2-for-2, 3 RBI) did likewise while Cooper Furst tripled and drove home a pair. 2B Danny Spolansky added three RBI. 1B Peter Portugues (2-for-3, 2B, 2 RBI), Logan Mammola (two hits, RBI 2B), Mark Schwartz (2 RBI) and Drew Borelli (RBI) all feasted.
No.8 YORKTOWN rose past No. 9 Clarkstown North, 6-4, erasing a 4-0 deficit to advance to the quarterfinals where the Huskers met their match at No.1 Panas.
As he has been all season, Yorktown sophomore P/IF Derek Patrissi came up clutch yet again, stroking a game-winning double in the sixth to eliminate North. The ace of the staff also came through with five solid innings on the bump, whiffing 10 along the way before Jack Esposito earned the save before delivering four solid innings in the loss to Panas. Dylan Koch, Brian White, Joe Carucci and Nick Pace poked a pair of hits in the win, but nobody could touch DiLorenzo, who fired a 4-0 no-hitter and went yard twice, in the quarters to eliminate Coach CJ Riefenhauser's Huskers (12-10).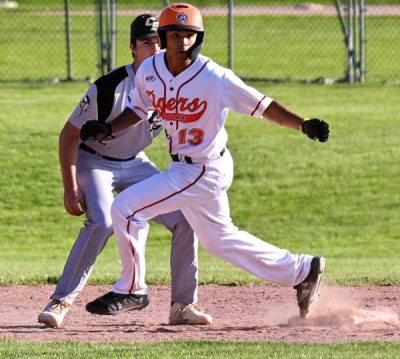 No.18 LAKELAND took its puncher's chance into No.2 Pelham and nearly busted up the bracket in a 3-1 loss behind sophomore P Ramzi Done, who allowed just two earned runs over five innings. Dom Toscano went 2-for-3 with two doubles for the youthful Hornets (8-14), who have some building blocks in place. Anthony Sabatello added a RBI.
MAHOPAC did its best to disrupt a bracket when the 11th-seeded Indians (10-10-2) upset No.6 Tappan Zee, 13-12, in extra innings (8), doing so when fresh freshman Nate Mascoll lifted the game-winning sac fly RBI to score Owen Ryan before the Indians turned the ball over to junior P Tyler DeBrocky to close it out for the victory.
Indians Rob Keller (4-for-4, HR, 2 RBI), freshman Drew Lichtenberger (2B, 3 RBI),  senior CF Joey Koch (2-for-4, 2B, 2 RBI), DeBrocky (2-for-4, 3B, 2 RBI), Mascoll (2-for-3, RBI), Casey Brandstetter (RBI), Tyler Castrataro (3B, RBI) all mashed, but, despite a late rally, Mahopac was sent packing after an 8-5 quarterfinal setback to Harrison in Coach Anthony Nappi's first year. With just Koch and Nevan Nystrom graduating, the future is bright and the Indians proved they were nobody's frauds.
"Let's just say this, before the season started I don't think there was anyone upset about seeing Mahopac on their schedule," Nappi admitted. "As a group, we openly discussed that and we wanted to bring respect back to our program. The players and coaching staff worked hard in the fall and winter to make that happen. The most important thing for us this year was to learn how to win and we wanted to make sure every team left the field saying 'damn that team doesn't quit, they're tough'. I personally feel we've accomplished that. This group had two seniors Nevan Nystrom and of course Joey Koch. They each set expectations for the younger guys in their own ways and I'm very grateful for that. I'm excited for our future and while I feel like we accomplished a lot, we also learned a lot of things we need to improve on. I know that everyone who wears that royal and gold M on their heads is excited to get to work."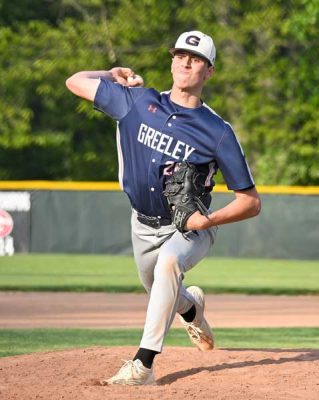 No.17 BREWSTER gave Panas a tough first-round out in a 6-2 season-ending loss for the Bears (9-13), who couldn't fully solve DiMaso (4IP, 2 ER).
No.13 HORACE GREELEY gave No.4 Rye all it could handle before the Quakers (9-10-1) were eliminated in a 5-4 loss to the host Garnets, despite a terrific effort from ace Ben Schulman, who could not survive an RBI walk-off single in the bottom of the seventh.
CLASS B
No.6 CROTON-HARMON had a portion of its good fortune run out in Sunday's 4-0 semifinal loss to No.2 Blind Brook, but the Tigers (17-6) will have the chance to bounce back in the double-elimination format when they face the No.1 Bronxville/No.4 Albertus Magnus loser on the loser's side of the bracket. The Tigers went four-plus innings without a hit after mashing in wins over No.11 Hastings (10-9) and No.3 Rye Neck (4-1). Evan Kurtz walked the Tigers off against Hastings with a two-run single while Sam Weiner (2-for-3, HR, 3 RBI) and Matt Anfiteatro (2-for-3, RBI) both cashed in before the Tigers clipped Rye Neck, the former two-time reigning champs.
PUTNAM VALLEY took major steps forward this season by building blocks toward a successful future; should the underclassmen not opt for the allegedly greener pastures, as some have in recent years. The pipeline is rife with talent should they hold it together in the Valley. The seventh-seeded Tigers (12-9-1) took care of No.10 Irvington in a 5-2 opening-round win behind ace P Dylan Watson, who went the distance, allowing one earned run on five hits while plowing down 11 Bulldogs on strikes. No question, Watson will be the toughest Tiger to replace in 2024, along with fellow senior pitchers, including versatile Ryan Moriarty (IF) and Sean Holzman, who both ate innings this season.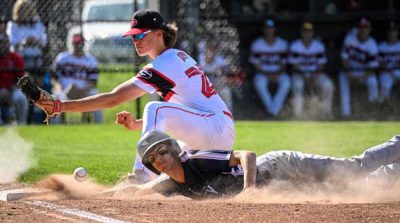 Sophomore James Sanford (2-for-4, RBI), junior SS Jay Constantino, All-Section junior CF Ricky Meister and versatile sophomore Connor Flynn are just some of the blocks to build upon in the future, but it wasn't enough to push past No.2 Blind Book in a 6-5 back-and-forth, season-ending quarterfinal loss last Thursday.
In VALHALLA's 12-4 opening-round win over WESTLAKE, Nathan Querfeld knocked home the game-winning run in walk-off fashion for the fifth-seeded Vikings (14-8). P Jake Sekinski (2 ER, 9 K's) had a career day, going the route  for the win while stroking his 100th career hit at the plate. Unfortunately, the Viking could do little more offensively in a season-ending 10-0 loss to No.4 Magnus. The 12th-seeded Wildcats finished 8-10-2.
It looked like No.9 BYRAM HILLS would get on one of its patented playoff runs after a 6-1 win over No.8 host Dobbs Ferry in the opening round when rookie sensation Bryce Baskind (3-for-4, 2 RBI), did his thing, clearing the fences twice. Christian Bellantoni (2B, 2 RBI), James Cavallaro (RBI 3B) and Justin Barad (RBI) all supported winning P Jordan Baskind (3-for-3, 2B, run) who chucked seven innings of three-hit ball without allowing an earned run and mowing down 11 Eagles.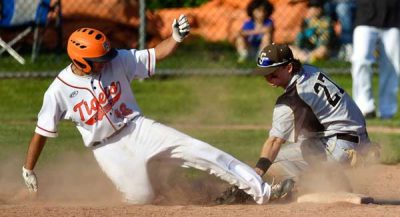 Unfortunately the bats went cold in the quarterfinals where the Bobcats (13-9) suffered a 6-1 loss to top-seeded Bronxville in Coach Scott Saunders' final game #HatsOffToCoach.
No.3 Rye Neck put an end to No.14 PLEASANTVILLE's season in a 14-3 opening-round setback. The Panthers finished at 7-13-1.
No.13 BRIARCLIFF (7-13-1) had its season come to a close in a 14-1 setback to No.4 Magnus in an otherwise down year for the Bears.
CLASS AA
It was all going so good for second-seeded WHITE PLAINS before it unraveled in a 14-6 season-ending quarterfinal loss to No.7 Clarkstown North. The Tigers (15-5) had their nine-game win streak come to a crash-and-burn ending in an otherwise sensation season
CLASS C
No.4 HALDANE did what Haldane often does, reaching the sectional semis after a thrilling 4-3 come-from-behind win over top-seeded Leffell. Down 3-0 entering its final at-bat, Haldane rallied for four runs to win the series and advance to the Section 1 Class C finals to face an age-old nemesis, No.2 Tuckahoe, courtesy of Blue Devil Jake Hotaling's three-run home run and John Kisslinger's RBI hit in the final frame.