No.1 Byram Hills Returns to Pitch with Unrelenting Fervor
We are part of The Trust Project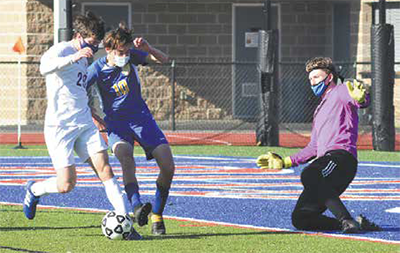 No.1 Carmel, No.2 Yorktown, No.3 Somers Set to Challenge for N.West/Put. Regional
By Ray Gallagher
Examiner Sports Editor@Directrays
Putting on the Byram Hills soccer uniform is akin to putting on a Yorktown lacrosse jersey, a Lakeland field hockey top or an Ossining girls' hoop tank top. It's a sacred institution, which is why the last 16 days of quarantine — prior to last Friday — was such an excruciating situation for Coach Matt Allen's Bobcats, who finally got back to business with consecutive wins over Harrison (5-0) and North Salem (5-0).
"It was painful to say the least to not be able to see my boys for two weeks, but we made good work during that time off," Byram D Kalden Halp said. "We made sure that each individual was putting in work almost every day over those two weeks, and I think it really gave us a sense of appreciation for our season. With COVID-19 cases on the rise now we understand that any game could be our last, so we're putting out our all for every game. This is one of the best groups of guys that I've had the privilege of playing with, so we're taking each game as it comes and hoping for the best."
The history at Byram Hills – where the motto is "Unrivalled History; Glorious Future" — is as rich as any soccer program in Section 1: The Bobcats have only lost two games in a row twice since 2006; they are 292-68-25 in those 20 years under Allen; they just won a 14th league title to go with six sectional titles, four regional crowns and four NYS Final 4 appearances, two state showings and one state jewel (2007).
So, yeah, not playing for 16-straight days due to COVID-19 restrictions took its toll mentally, but the unit did not skip a beat upon retaking the turf Friday and Saturday, setting them up as the No.1 seed in the upcoming Northern Westchester/Putnam County small school regional tournament. A win over North Salem was, on so many levels, just what the doctor ordered.
"Sitting around waiting was difficult but knowing the end date helped them focus just a bit," Allen said. "They knew they'd have more games. The boys needed a push as they sometimes play timid. They don't talk as much as they should. It's like they are too nice sometimes."
Few schools in Section 1 feed off soccer like Byram Hills does, so a two-week quarantine period was the last thing Allen's Bobcats were expecting when the abbreviated 2020 campaign began. Still, reality kicked liked a mule and the Bobcats were at the mercy of the pandemic, but they appear ready to make a run at a regional crown.
"Without question it felt good to be out there with my boys again," Byram G Aidan Cogan said. "It was tough not seeing them in person after spending the last five months training with them nearly every day. We have built such a great relationship even beyond the soccer field. Most importantly, 'Practice tomorrow' are my two favorite words and that is something we do not take for granted at Byram Hills, so we are without a doubt happy to be hearing that. We practiced hard to get ready for Friday and Saturday, and we believe the results were well deserved. We have learned that our time together is more special and more valuable than ever, and we need to keep working and staying positive to make the most of this final run."
It's on, for now, but the regional tournaments are bound to hit some bumps along the way. As of this writing, the locals within the expanded Examiner Sports region will be well represented. Top-seeded CARMEL (8-0), winners of the AA-North league for the first time in school history, will be on the opposite side of the No.2 YORKTOWN (9-0-1) and No.3 SOMERS (8-2), who could be on a semifinal collision course, making for a must-see Final 4 challenge should it come to fruition. Either way, a healthy Somers team was the team to beat going in to this whacky COVID-plagued season, so don't be shocked to see them in the end; unless George Popvic (8G,9A), Chris Judge (3G, 7A), G Dylan Lopez and the Huskers can outlast Bennett Leitner (8G, 2A), Daniel D'Ippolito (6G, 7A), Zane Bramson (6G, 6A) and the Tuskers in Round 3 (the Huskers swept the regular season).
Carmel might get a Final 4 challenge from No.4 HORACE GREELEY (9-3), which was red hot before a 1-0 loss to PANAS Saturday, courtesy of Kyle Arraiano's goal from Tristian Phillips, extending the surging Panthers' win streak to four games while stopping the Quakers' win streak at seven games. Kyle Rizzo made eight saves for Panas (6-3-2), who enters the small school tourney as the No.3 seed and forget about sleeper… the Panthers are legit challengers to favorite Byram Hills after Panas went 4-0-1 to close the regular season, tying Yorktown and beating Greeley. No.2 North Salem did not appear to be on top of its game in the blanking by Byram Hills, giving Panas a real avenue to the finals.
Carmel saw Tayte Wong set up Nico Calvelli before he netted another for a 2-0 lead in a 3-1 win over RCK, assisted by Jack Aurteria. Kyle Klammer then took a Dylan Bates assist for the final margin for a Carmel team that cannot be slept upon. A regional crowning moment for the Rams would be historic on many levels. Reining Section 1 Class AA champion OSSINING (6-6) secured the No.5 seed and has yet to play its best game. No.7 MAHOPAC (2-7-1) is better than its record indicates and No.8 FOX LANE (0-9-2) rounds out the field in the N.West./Put. large school grouping.
The large school quarterfinals opened Monday: No. 8 Fox Lane at No. 1 Carmel; No. 5 Ossining at No. 4 Greeley; No. 7 Mahopac at No. 2 Yorktown; No. 6 John Jay-CR at No. 3 Somers. The semifinals are set for Wednesday at higher seed with the finals set for Friday at the higher seed.
Among the small schools, No.4. PEEKSKILL (6-5) and No.5 LAKELAND (6-5-1) have each had a solid season but neither has posted that eye-opening, quality W to make one take notice. No.6 BRIARCLIFF (4-4-2) has had its moments but is stepping up in class against the big boys. No.7. HALDANE (3-8) played tough in a 1-0 loss to Lakeland, proving it can compete. No.9 HEN HUD (2-8) and No.8 CROTON (2-8) and No.10 PUTNAM VALLEY (2-10) round out the grouping.
Small school opening round schedule begins Monday as follows: No. 10 Putnam Valley at No. 7 Haldane; No. 9 Hen Hud at No. 8 Croton (2-8). The quarterfinals will go off Wednesday with the Hen Hud/Croton winner at No. 1 Byram Hills; No. 5 Lakeland at No. 4 Peekskill; Putnam Valley/Haldane winner at No. 2 North Salem; No. 6 Briarcliff at No. 3 Panas. The semifinals are set for Friday at higher seed with the finals set for Sunday at higher seed.
No.2 WHITE PLAINS (5-0-3) will open up its run for the large school Southern Westchester regional at home against No.7 Edgemont (2-7) in Wednesday's quarterfinal round. The semis are slated for Friday with the finals to follow Sunday. No.1 Mamaroneck could be the last team standing on the opposite side of the bracket, awaiting the Tigers.
The Southern Westchester small school regional features several strong challengers from the Examiner area. The opening round was set to start yesterday with No.9 Hastings (3-6) at No. 8 WESTLAKE (4-5); No.12 Dobbs Ferry (1-6) at No. 5 Rye Neck (4-3-2); No.10 Blind Brook (2-6-1) at No.7 Irvington (4-4) and No.11 Tuckahoe (1-5-2) at No.6 VALHALLA (4-4).
Wednesday's quarterfinals will see the Hastings/Westlake winner advance to No.1 Bronxville (9-1) and the Tuckahoe/Valhalla will visit No.3 PLEASANTVILLE (8-2-1), which has had to battle for everything this season, so Coach Beau Morki's Panthers are battle-tested and poised to make a run to the finals, but Bronxville, unless upset, will be a monster in the end. The semifinals will touch off Friday at higher seed with the finals set for Sunday at higher seed.