New Yorktown Pastor Anxious to Get Involved in the Community
We are part of The Trust Project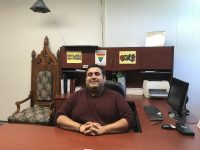 By Kelly Haberstroh
Matthew Querns' role as pastor of Yorktown United Methodist Church goes beyond a Sunday mass service, with many of his responsibilities including being in charge of word, sacrament, order and witness.
Although he only joined on July 1, he has already reached out to the town supervisor, police department, fire department and religious leaders to get involved in the community.
"We believe that I'm not just assigned to the church, but to the community that the church is in," Querns said. "My pastoral care, love, desire to serve is not just to be within this wall, but to be within the Yorktown community."
For the last six years, Querns served as a pastor of Walden United Methodist Church and Bullville United Methodist Church, which are two small churches in Orange County. A pastor's second placement is often eight to 10 years, according to Querns, which he hopes will be how long he's in Yorktown.
Since coming from a smaller parish, Querns used to be able to engage almost everyone within a Sunday morning service when there were only 30 people in attendance.
"The first Sunday I was here, there were 120 people and I had never had that many people at a church I was pastoring," he said. "I was like, 'Where do I look? Where do I start? Who do I bounce this off?'"
While he's still learning names and getting used to the larger crowd of people, he also is listening and learning what the current needs of the town are and how the Yorktown United Methodist Church can connect with that.
"I learned a while ago that it's nice to go to a person and say, 'Hey, this is what I want to do to help, not tell me what I can do to help,'" he said.
He also looks to see what the mission of the local community is. At his previous church, Walden, many of the students qualified for free or reduced lunch. During spring break, the church would adopt a family and feed them, since some kids would have little to no food the whole week.
With mission work as his focus, Querns also incorporated a Blessing of the Backpacks into the Yorktown United Methodist Church that will take place on Sunday, Sept. 9.
"Sometimes teachers have to buy things out of their own pockets or students can't get supplies they need," he said. "When we bless the backpacks of the kids, I want to have backpacks we can give to all of the schools, whether a teacher or student needs it."
Querns also considers himself to be interfaith minded and reached out to all religious leaders of every faith in the community.
"Even though Christianity is the faith I have chosen, I believe there is truth and beauty in God and all the faiths," he said. "I dream of a world where instead of religions fighting each other, we work together. Why would anyone want to join any of us when we can't get along?"
As a Christian pastor, he believes in being present, supporting and serving, as opposed to preaching. He also has an openminded approach to include all those who may
"Who in the community is forgotten, shunned, rejected and how can we give them dignity back?" Querns said.
During his time as pastor, part of his mission includes justice, which involves working to make the church a sanctuary church to keep immigrants and their children safe. He also put together a service that will take place on Oct. 11 at 6:30 p.m. in honor of Coming Out Day to celebrate those in the LGBTQ+ community in Yorktown Heights.
"I want to let those in marginalized communities to know they have a place and are welcome here," he said.
Querns will also dedicate time during the service where he will apologize on behalf of the faith, acknowledging how members of the community have been abused and killed because of faith.
"May this be a day where faith reconciles," he said. "I love restoring hope in people's lives. I also love building bridges, not walls."
His role also includes pastoral care, such as visiting those who are sick in the hospital. He keeps list of who's sick and monitors who needs a visit.
"I sleep with my phone in my bed," Querns said about how people think pastors just preach on Sundays. "Someone could call me at two in the morning and say, 'My husband had a heart attack, meet us at Westchester, please' and I'll be right there."
Religion has always played a role in Querns life, as he and his family were active in church when he was growing up. His first sign he would become a pastor was at age 13 when he was asked to read at a teen liturgy service. He did so well, people were coming up to him and saying he was going to become a pastor one day, although he never wanted to.
For 10 years, he avoided what eventually became the inevitable.
"Even though religion has done evil things in its history, there's so much good it can do, and I love being a part of that," he said.