New School Trains Next Generation of Dentists in Heart of Westchester
We are part of The Trust Project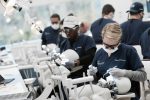 It was Dr. Edward Farkas's vision to open a new dental college in the Hudson Valley. After all, the difficult process in establishing a place to train tomorrow's dentists had been a contributing factor in New York State having gone nearly a half-century without the launch of a new dental school.
But the opening of Touro College of Dental Medicine in Hawthorne in 2016 isn't only to benefit the future careers of the 110 students who enter the four-year program each July, it will be a public service to thousands of area residents for years to come.
Farkas, Touro's vice dean, said new schools had been opening in other regions of the country, which aligned with a U.S. News & World Report article a few years ago listing dentistry as the top profession in the United States. However, New York has lagged.
Farkas called his dream "a 5 a.m. vision."
"So, when that happened, I took a look around and thought maybe we need more capacity," he said. "There are new schools in Utah, Arizona, California and we're kind of filling that trend."
Located at 19 Skyline Drive on the campus of New York Medical College and in the space once used by IBM as a research facility, Touro College of Dental Medicine takes up the building's top two floors. On the top floor is the school, where students, dressed in scrubs, learn on mannequins and train for their future profession under a grueling schedule.
During the students' four years, they are introduced to today's state-of-the-art dentistry equipment that serves as the foundation of their education.
One story below is Touro's brand new 32,000-square-foot oral health facility that opened in January with 81 dental stations. Once each incoming class finishes its first two years, they then observe live patients and eventually treat them under the watchful guidance of the roughly 80 faculty and staff members. Most of the faculty, similar to Farkas, work in outside practices.
"The student is part of the dentistry team and there are multiple faculty members that are part of that team and works with them in treating these patients," Farkas said. "So after the students come down, the patients can be rest assured that the treatment will be safe and high quality. That's the message that we're trying to get out."
Patients make appointments and arrive at Touro's facility like they would any dental practice, said Rachael Silva, the school's director of marketing. The draws for the patient are the large number of professionals that are supervising their care, the availability of all types of specialties in one facility without referrals and highly competitive pricing, she said.
All major forms of insurance are accepted as well, including Medicaid.
"Our prices are 20 to 50 percent less than most private, traditional practices out there," Silva said. "But the other part of it is you have every dental specialist under one roof every day right there on the spot, so they're all figuring out the best treatment every day."
Touro is planning additional specials and discounts for veterans, seniors and other segments of the population, she said.
Farkas said the digital technology and imagery of a patient's mouth allows the dentists and their students to see things that might not be discernible by eye or even traditional x-rays. In instances where crowns, bridges or implants are required, the technology is so precise that molds aren't needed, which reduces the number of visits for major work, he said.
With an aging population and greater life expectancy, proper nutrition is increasingly essential, Farkas said. Taking care of one's teeth is a key component.
Farkas added that Touro College of Dental Medicine has received about 2,500 applications for the 110 annual slots from hopefuls throughout the United States.
"With the help of all those who participated in the process, we are realizing our commitment to the school's mission to educate outstanding dental professionals…who will return to their diverse communities and provide outstanding service with integrity, compassion and empathy and we are sincerely grateful," Farkas said.