New Rabbi Looks to Inspire Congregants at Temple Beth El
We are part of The Trust Project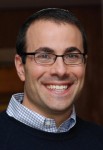 When Jonathan Jaffe graduated from college he thought he was on the path to a successful business career.
He landed a job working in the finance department for the clothing chain Gap, Inc. in Freemont, Calif., but soon felt isolated thousands of miles from where he was born and raised in Honolulu.
Jaffe sought community in the local synagogue where he soon found himself teaching an evening adult education class. As it turned out he enjoyed his small night job much more than what he was doing during the day.
After three years, Jaffe left Gap, Inc. to become the education director at another synagogue and even got to fill in for the rabbi when he was ill. Eventually, he abandoned his plans to earn an MBA in favor of rabbinical school.
"I realized that being a rabbi was the best fit for my profession, my talents, my goals and that if I'm going to spend my life supporting an organization, a company, for the greater good, then to me there's nothing more valuable than the Jewish community," Jaffe said.
Earlier this year, Jaffe, 38, was named the new rabbi at Chappaqua's Temple Beth El of Northern Westchester in Chappaqua, replacing Joshua Davidson who last year moved on to Temple Emanu-El in Manhattan.
Jaffe and his family–wife, Yael, and their four- and eight-year-old children–moved from San Francisco, where he served as rabbi at Congregation Emanu-El since 2006, to start his new position July 1. They will be town residents, an important factor for Jaffe to help him not just work in the community, but to be part of it.
So far, they've loved what they've seen. In fact, it's a place where Jaffe could see him and his family stay for the long run despite not yet having endured a Northeast winter.
"I think a large part of my job as a new rabbi is to be very much out in the community, meet our congregants, meet the Jewish community at large here and come to understand what are the values, the principles and the priorities of this community," Jaffe said. "I think it would be shortsighted for me to take what I've learned from an urban west coast background and project it onto a suburban east coast background."
Despite the apparent cultural divide, Jaffe is no stranger to New York. He graduated from Duke University, which historically has a large metropolitan area contingent, became friends with many New Yorkers and worked summer jobs in Manhattan while in school.
But he also looked forward to moving to an area with a strong Jewish identity . Growing up in Hawaii, he was one of only three Jewish students in his high school graduating class of more than 400. Even in San Francisco, which has a large Jewish population, it is highly assimilated and there aren't many outward displays of Jewish culture like there are in the New York area.
Jaffe said what impressed him about Temple Beth El has been the congregation's  ability to seamlessly move forward despite a period of transition over several years, including searches for a new cantor, an assistant rabbi , a new preschool director and the facility's expansion.
Jaffe also stood out for the temple's lay leaders. Congregation President Lisa Davis said among the more than 30 candidates for the position, Jaffe was at the head of the class based on his personality, warmth and intellect.
She described him as somebody who has the skills to relate to the large cross-section of people who make up the roughly 500 families who are members of the Reform congregation.
"He's just an outstanding people person," Davis said. "I believe he can relate to people of all ages and be a real leader."
Jaffe stressed that he understands the challenges facing individuals, tired in their harried lives who may not always want to participate at a Friday evening service. He also wants to make sure that he keeps Judaism moving forward, enjoyed and able to adapt and be appreciated for generations to come.
"I think the synagogue suffers when it treats Judaism like the precious, fragile tradition that must be kept behind glass and revered but not enjoyed," Jaffe said. "I am much more comfortable in that Judaism needs to be the malleable, tactile part of our lives that we are able to create, invent and use."