New Geothermal Law Enables Affordable Housing Project in Ossining
News Based on facts, either observed and verified directly by the reporter, or reported and verified from knowledgeable sources.
We are part of The Trust Project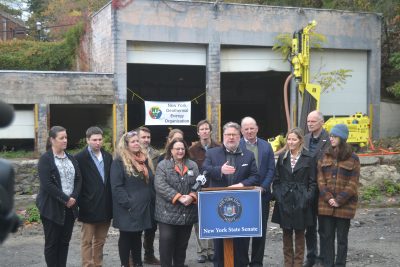 A rig towered over the Ossining waterfront last Wednesday, poised to drill down around 600 feet, a first test well at the future site of a proposed affordable housing development that will use geothermal heating and cooling.
A group of state and local officials gathered to mark a newly-amended law that lifts the 500-foot limit on drilling depths for geothermal boreholes, a regulation that has been in place for the oil and gas industry, The new law is expected to make it easier for new construction projects to provide geothermal heating and cooling in urban areas, and make it less expensive as well.
The legislative action has opened the door for the proposed mixed-use project called Station Plaza at 30 Water St. in Ossining, which would be one of the first projects in the state using the new drilling guidelines. The project, which is still undergoing site plan review, would be comprised of 109 affordable apartments, more than 3,500 square feet of retail and over 3,700 square feet of community space. It is expected to be completed within three years if approvals are granted next year.
In September, Gov. Kathy Hochul signed a bill sponsored by state Sen. Peter Harckham (D-Lewisboro) and Assemblywoman Deborah Glick (D-Manhattan) to allow geothermal boreholes deeper than 500 feet. The law is seen as a major breakthrough for the geothermal industry.
"We are trying to move as expeditiously as we can away from fossil fuels, and geothermal is by far the most efficient way to heat and cool buildings," Harckham said. "Now we can drill on smaller urban sites, which will provide heating and cooling that is cost-effective."
The old regulation required more geothermal boreholes to be drilled, which was costly and often prohibited in urban areas.
A geothermal system harnesses heat stored in the Earth and captures and converts that heat for residential use. A typical system includes a closed loop of pipe, a liquid to absorb and transfer heat and a heat-pump unit to extract heat for use. To cool structures, the heat is instead pumped into the ground.
The 3.4-acre site at 30 Water St. is bordered by Central Avenue, Main Street and Secor Road. The Kill Brook, also known as Sing Sing Kill, runs through the center of the property, which is owned by the Town of Ossining. The site had formerly been the home of the Ossining Department of Public Works.
The Ossining Manufactured Gas Plant occupied the property from 1850 to the 1940s, and it was later owned by Con Edison. There is contamination on the site, which is required to be remediated through the state's Brownfield Cleanup Program before any construction is permitted.
William Balter of WBP Development LLC is the developer for Station Plaza. The building will be the company's third affordable multifamily development with a large geothermal system for heating, cooling and hot water.
Station Plaza would offer 40 one-bedroom units, 60 two-bedroom units and nine three-bedroom units to households with incomes ranging from $27,000 to $100,000 a year.
Rents could start as low as $677 a month for people earning 30 percent of the county's average median income and as much as $2,503 a month for the most expensive three-bedroom unit.
"We are thankful for the law change spearheaded by Sen. Harckham," Balter said at the event. "This law will allow us to use a smaller portion of the site for the geothermal wellfield. Fewer wells will result in better logistics and substantial construction savings."
The rise in the use of geothermal heating and cooling is expected to reduce the cost of meeting New York State's building decarbonization requirements by nearly $9.9 billion by 2050. It will also lower the cost of meeting the state's goal of electrifying one million homes by 2030 by about $900 million.