New Cuomo Bridge Bike and Pedestrian Path Opens to Public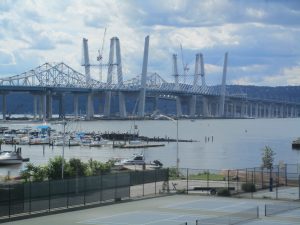 The New York State Thruway Authority opened the highly-anticipated Mario M. Cuomo Bridge bicycle and pedestrian path on Monday that links Tarrytown with South Nyack and offers stunning views of the Hudson River.
The 3.6-mile path located on the northern side of the westbound lanes of the span offers six scenic overlooks for the public to stop and admire the sights.
"You can come across the Hudson River, which is spectacular in and of itself," said Gov. Andrew Cuomo, who was in Westchester on Monday for the dedication. "From the bridge you look south you can see New York City; you look north it's one of the most beautiful river valleys on the globe."
There is a walking lane and a bike lane on the 12-foot-wide path, and there is visitor parking at both ends.
One of the happiest people to see the project come to fruition is Greenburgh Supervisor Paul Feiner. A longtime cycling enthusiast, he said the path is a dream come true and "probably the most important recreation enhancement in the region in decades."
Feiner had advocated for a path connecting both sides of the river, however, it wasn't feasible with the old Tappan Zee Bridge. He believes that it could be an economic boom for his town with many more people passing through in addition to providing exercise and outstanding views of the river.
"The Thruway Authority did agree to close the (old) bridge once a year for an annual Muscular Dystrophy charity bikeathon, which was very popular," Feiner said. "I remember bicycling over the bridge a few times. A thrilling experience. Fantastic views. Great exercise."
He plans to continue to work with the state to make Route 119 safer for cyclists. Feiner said if a Route 119 bike path or lane could be established from the South County and North County trail to the bridge it would help cyclists to bike from the Bronx or Putnam County to the bridge.
The path that ends on the Rockland side of the bridge spills out into the visitors parking lot, the Esposito Trail, local sidewalks and State Bicycle Route 9.
Cuomo said the bridge and the path speaks to achievement, since there were many naysayers over the years who said a new bridge couldn't be built.