New Castle, Utilities Seek Solution to Reduce Multiple Poles
We are part of The Trust Project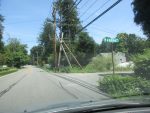 Frequent complaints from residents regarding the proliferation of unsightly double utility poles throughout New Castle forced a meeting last week between town officials and service provider representatives hoping to devise a strategy for removal.
The July 27 meeting at Town Hall, which included representatives of Con Edison, Verizon and Altice, the company formerly known as Cablevision, took place a little more than a week after the town board opened a public hearing on a proposed local law that would prohibit permanent multiple utility poles. The legislation has proposed fining utilities responsible for each double pole up to $500 a day.
Town officials said aesthetic concerns is not the only motivation to correct the situation, but safety is a major issue as well. Drivers' sightl ines can be impaired when the poles are placed close to intersections. The expanding number of poles can also pose dangers for motorists on the town's windy roads.
Town Administrator Jill Shapiro said there have been an increasing number of double poles – called by the utilities as "double wood" – that have been placed near intersections, especially on major state roads, causing significant safety issues.
"Our town board has taken action to bring some sort of resolution to the situation we find ourselves in," Shapiro said.
A recent survey conducted by the town found that there were 304 double poles in New Castle, said DPW Commissioner Gerry Moerschell. After consulting with police Lt. Daniel Carroll, there were also 14 single poles that the police department found to be a hazard, he said.
During the opening of the July 18 hearing, Jane Solnick, Con Edison's director of public affairs for Westchester, requested that the town hold off on pursuing the legislation until utility representatives could meet with the town. She said the utilities want to work with municipalities to ensure safety but also want to maintain service.
It is further complicated by Con Edison and Verizon's participating in the National Joint Utilities Notification (NJUN) system since 2013, which partly explains the increase in locations where there are multiple poles. NJUN is a program that includes many utilities across the United States to address the safe transmission of service. Representatives stated that there are a variety of reasons that multiple poles could be erected at a site, including a pole getting damaged if its struck by a vehicle, severe weather or other transmission issues.
"We all know there is a double pole issue in the entire state, if not in other states as well," Solnick said.
"But NJUN was started at that point (in 2013) and it was to try and tackle the situation of double poles," she added.
However, the program requires a utility receive up to 30 days notification before a pole is removed, and with multiple utilities using a pole, it can prove to be a time-consuming process to remove, Solnick said. Sixty percent of the poles are owned by Verizon and 40 percent by Con Edison.
Councilman Adam Brodsky said the current situation needs to be corrected.
"We've been hearing from our residents and having more than 300 poles in the community that are double poles is really unacceptable," Brodsky said. "I'm not saying this in a threatening way."
Solnick recommended that the town list the 304 locations in order of priority so the utilities have a good idea of where their biggest concerns lie. However, a utility's priority may often be different depending on a variety of factors.
In Westchester and Putnam, close to 1,000 poles have been pulled. Removal has begun this summer on Campfire Road in town, utility representatives said.
Town officials and the utilities agreed to meet on Oct. 5 for an update. Councilman Jeremy Saland said he was uncertain whether the board would pursue the proposed legislation, although the public hearing could remain adjourned.