New Castle Scheduled to Vote Thursday on Chap Crossing Rezone
We are part of The Trust Project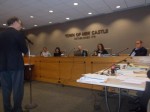 The New Castle Town Board may finally take a vote this week whether to rezone a portion of the Chappaqua Crossing campus to allow 120,000 square feet of retail at the site.
Board members announced last week that they are scheduled to meet Thursday night at the Chappaqua Public Library auditorium at 8:15 p.m. and vote on amending the supplemental findings statement and the 1989 town development plan. The board is also expected to decide whether Chapter 60 of the town code should be amended to allow retail in an office and research business zone under certain conditions.
A vote on the Preliminary Development Concept Plan and adoption of a retail local law will not take place until January or February, New Castle Supervisor Robert Greenstein said.
Town Administrator Jill Simon Shapiro said this week that the board would likely resolve the outstanding issues regarding the proposal, such as whether to ban chain restaurants.
The scheduled votes come after the town board once again adjourned the set of concurrent public hearings at the close of the Dec. 9 meeting. At that meeting, several residents continued to criticize or express skepticism at various aspects of developer Summit/Greenfield's plan.
Chappaqua resident Lynne Lambert questioned why the board was insistent on making a major decision on the property's future despite being about a year away from completing the update of the town's Master Plan.
"When we know that this development is likely to create the traffic nightmare that it's going to (cause), if I were you, I would want to follow a normal process, which is not ready, shoot, aim, but ready, aim, then shoot," Lambert said.
Councilman Jason Chapin responded that he wished the Master Plan had been completed already but a moratorium would not be the answer.
"It does frustrate me that the Master Plan was not completed earlier but I feel the proposal was in and we had an obligation to consider that proposal," Chapin said, "and I don't think we had legal grounds to institute a moratorium, and so I don't think that the solution is to always go to court and spend hundreds of thousands, maybe millions of dollars, on lawsuits."
Another Chappaqua resident, John Ehrlich, recited a list of failed supermarkets over the years on or near Route 117, including D'Agostino's and two Grand Unions. He told the board that local residents haven't historically supported food stores because they prefer a more residential feel in their town.
However, Ehrlich said he was disturbed because it appeared that a majority of the board had made up its mind in favor of the rezone despite last year's candidates having promised to block the Chappaqua Crossing retail until the Master Plan was updated.
"I'm very, very upset that a decision seems to have already been made, and I really hope that those on the board who seem to be taking a particular position will keep their promises," he said.
Town Attorney Nicholas Ward-Willis told the board that the county planning department sent a letter to officials stating it was generally supportive of Summit/Greenfield's plan, although would have preferred to see the residences in closer proximity or placed on top of the retail establishments.