New Castle Officials Mull Pair of Restaurant Plans for Train Station
We are part of The Trust Project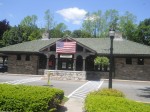 New Castle officials are considering two new proposals for a restaurant at the town-owned Chappaqua train station building, about six months after a previous plan fell through.
The town board listened to a presentation at its Feb. 19 work session from Carla Gambescia, a Chappaqua resident and owner of Via Vanti! who would open a variation of the establishment that has been at the Mount Kisco train station for the past five years. It also heard a pitch from the partners behind the proposed Burdock Natural Cafe, an eatery that would feature healthy food choices using seasonal and sustainable foods.
The nearly half-hour presentations from Gambescia and her business partner James Yacyshyn, and Burdock partners Stetson Hundgen and Arnold Rufino each centered on what each establishment would provide the commuter and the community. There would be seats inside for patrons as well as take-out service for those who are heading to the train or heading home.
"There are a lot of people who have dietary restrictions and allergies, and I want to cater for them," said Rufino, who worked for various restaurants in New York City and Westchester. "I just don't want to cut these people out. I (also) want to offer food to those who don't care about dietary restrictions or who don't have allergies."
Gambescia said while a Via Vanti! at Chappaqua would be similarly based on Italian fare, limitations in the kitchen, most notably electric service rather than gas, would force the menu to be revised to more small plate offerings rather than full entrees. Other ideas she has for the space would include fresh baked goods and coffees for the morning commuters utilizing the existing ticket booth, which has been obsolete because of train ticket machines.
There would also be a mozzarella bar and take-out service for commuters returning home. Yacyshyn said the restaurant would offer wine classes, and customers would be able to be served three- and five-ounce glasses of wine. There would be brunch served on the weekends.
The proposals outlined a plan that would maintain the interior so it is in keeping with the more-than-century-old building, and hope to have limited outdoor seating during warm weather months.
"We love everything about this station and we want to continue that," Gambescia said.
The building, constructed in 1902, is a local landmark, which prohibits the structure's exterior from being altered. Currently, there is morning food service offered to commuters.
Last May, the town board heard a proposal from the former chef of the Flying Pig, who had hoped to open a restaurant styled after the popular Mount Kisco eatery. However, the plan fell through a few months later when the limitations in the kitchen forced abandonment of the proposal.
Burdock Natural Cafe would feature a morning menu of coffee, tea, fresh fruit and vegetable juices, fresh fruit smoothies, hot cereal, pastries, yogurt, salads and breakfast burritos. In the afternoon, in addition to the beverages, there would be soups, sandwiches, wraps, veggie burgers, salads, breads, desserts and a limited sushi bar. Bottled beer and wine would also be available.
Hundgen, whose mother, Beth, owns the Chappaqua floral business Whispering Pines, said the opening give him and Rufino a chance to fill a void in the community.
"Being in the community, working for my mother here, a number of months passed and we just found out there's this opportunity and figured we'd go for it," said Hundgen, who currently owns a Brooklyn-based outdoor gear company.
Gambescia said she is hopeful that if the town makes a fairly prompt decision in her favor she could be open this summer.
"I'd like to be open for the summer," she said. "It's going to take about eight to 12 weeks to do what we have to do to get ready if it should come our way."
Last week, the board gave no indication about which entity it might favor leasing the space to after listening to the proposals. Town Administrator Penny Paderewski said the board would likely schedule a work session in the near future to discuss the plans and how it would like to proceed.
Via Vanti! and Burdock Natural Cafe are the only two proposals being considered, Paderewski said.