New Castle, Mount Kisco Locked in Culvert Damage Dispute
We are part of The Trust Project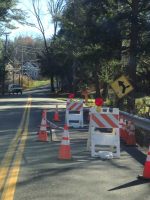 A dispute between the Town of New Castle and Village of Mount Kisco regarding which municipality is responsible for a damaged culvert on Byram Lake Road may be headed to litigation.
Notices of claim were filed by each municipality against each other in October stemming from a broken water main in the vicinity of 190 Byram Lake Rd. on July 14.
On Oct. 11, New Castle initiated its claim in Westchester County Court, contending that Mount Kisco crews damaged a reinforced concrete slab on top of the box culvert and the side wall when repairing the water main.
The town argues that it is looking to recover $150,000 because the village has damaged a town road and has refused to make repairs. Byram Lake Road in that area is a street that belongs to New Castle, although Mount Kisco has an easement to service its mains.
But according to Mount Kisco's claim, filed three days later in state Supreme Court, the village is looking to recover $175,000 because improper culvert work by the town caused the main to break.
The "subsurface main was broken due to concrete and culvert work being improperly installed in, around and on top of such main by the Town without prior notice to the village and without adequate shielding or fortification to adequately, protect the village's water main," the claim stated.
The village contends that when it was completing repairs to the main, which brings  water from Byram Lake to the village, crews noticed a reinforced concrete slab, a stone wall culvert and concrete encasement.
From shortly after the accident until about a month ago, there was a construction plate placed over about a 30- to 40-foot stretch of Byram Lake Road, said Mount Kisco Village Manager Edward Brancati. Within the last month, the lane was closed off in that area because of unsafe conditions, he said.
Meanwhile, residents who use Byram Lake Road are angered by the lack of action and the safety hazard associated with closing off one lane of traffic.
"Four months to leave people hanging is not acceptable," said Harriman
Road resident Warren Cook. "Why don't they fix the road and let the billing be handled in litigation?"
New Castle Town Administrator Jill Shapiro said either $150,000 to $175,000 is a considerable sum for municipalities that must watch every dollar spent at a time when the tax cap is in effect. For those who travel the road regularly, Shapiro said New Castle officials understand the upset residents.
"It a unique situation. Everybody is concerned," she said.