New Castle Launches Military Tribute Banner Program for Hamlets
We are part of The Trust Project
Banners honoring veterans have become a popular feature in communities throughout the area. Now the Town of New Castle will pay tribute to their residents who have served their country.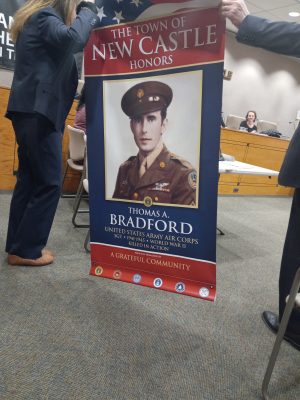 The town has initiated a military tribute banner program recognizing veterans with five-foot-long by two-and-a-half-foot-wide professionally designed banners that will be hung from poles in downtown Chappaqua and Millwood.
James McCauley, a longtime Chappaqua resident and Vietnam veteran who served as a marshal for its Memorial Day parade for many years, said the program will kick off with nine or 10 military members whose names are among those on the New Castle war memorial monument.
"We're going to start small; we're going to start slow," McCauley said. "We have 19 names on the monument. These are people who lived in New Castle and who died in service."
Most of the people whose names are on the monument died during World War II, although there are several from other wars, including World War I and Vietnam, he said.
For the first round of veterans, the town has set aside about $2,500 to cover the expenses for the banner, said Town Administrator Jill Shapiro. Beyond that, for a family or other sponsor to pay for a banner, it will cost $275 each. The deadline for the town to receive this year's order for banners is May 1, Shapiro said.
For now, there is a limit of 20 banners.
The plan is to have them hanging in time for the Memorial Day parade this year and for them to be displayed through Veterans Day, said Supervisor Lisa Katz. They will be taken down for the winter before going back up each ensuing Memorial Day. Personnel from the town's Department of Public Works will be responsible for putting up and taking down the banners.
"We have seen what other towns have done and there's a proposal that we want to make this available to the public," Katz said.
The banners will include the service member's photo, branch of military and whether they were wounded or killed in action or were a prisoner of war. In addition to veterans, active duty, reserve and National Guard members are eligible to have a banner.
Families can also request whether they want to have a banner placed in Chappaqua or Millwood, although location cannot be guaranteed.
"I have no idea how many we will actually get, but I can't imagine," McCauley said. "I know we have more than 50 veterans, but I don't think we'll get too many more than that."
For any family that would like to submit an entry for a family member to be included or for more information, visit https://militarytributebanners.org/component/sppagebuilder/?view=page&id=914 or contact Town Administrator Jill Shapiro at 914-238-4742 or at jshapiro@mynewcastle.org.