New Castle Honors Soccer Player Posthumously With Field Renaming
News Based on facts, either observed and verified directly by the reporter, or reported and verified from knowledgeable sources.
We are part of The Trust Project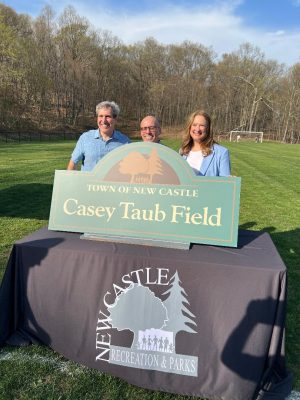 Last Friday afternoon at Gedney Park in Chappaqua more than 200 people honored Casey Taub, a young soccer player who lost his life to brain cancer at 17 years old.
The crowd gathered under bright sunshine and unseasonably warm temperatures to watch as the park's upper soccer field was formally named Casey Taub Field.
Taub was only 14 when he was diagnosed with a type of brain tumor known as glioblastoma. For three years he battled before his life was taken in 2017. The loss was felt deeply by the New Castle soccer community.
Taub was known for being a top athlete. The Horace Greeley High School student had soccer in his blood since he started playing as a child, successfully moving though the levels of the Chappaqua branch of the American Youth Soccer Organization (AYSO) and the Chappaqua Youth Soccer Club (CYSC).
"I wish none of us were here today," Casey's father Jonathan Taub said as he addressed the large group of people. "It's something unfortunately we have to bear. But since we are here today, I am beyond grateful to everyone involved in getting this done."
Taub thanked those who over the last four years helped to make the field naming happen, including Supervisor Lisa Katz, New Castle Recreation & Parks Commission member Adam Glick, former councilman Christian Hildenbrand and David Schreiber, who was co-president of CYSC and coached Casey in soccer, basketball and baseball.
"I'm humbled but also happy that we could be here today to dedicate this soccer field in memory of Casey Taub," Katz said. "One of things that Casey embodied were the values of passion and dedication, teamwork and sportsmanship. And though he may no longer be with us, his love for soccer will live on."
Schreiber, whose son was friends with Casey since kindergarten, was one of those instrumental in getting the field named and raising funds for the large sign outside the field. There will also be a plaque.
"A bronze plaque will be installed by the field," he announced. "It will say, 'Casey was known for his compassionate and kind heart, his humor, his love of life and sports and his passion for soccer.'"
Town Superintendent of Recreation & Parks Ike Kuzio was also involved in getting the field renamed.
"There's no better way to remember Casey," he said.
After his son's death, Taub worked with the Matthew Larson Foundation, raising funds to bring awareness to the various types of childhood brain tumors and to help families that are similarly affected. Today, Taub is on the Matthew Larson Foundation board and has been involved in fundraising events over the past five years.
Additionally, every year Taub presents the Casey Taub Spirit Award to a Horace Greeley High School student who is passionate about sports and excels athletically. Taub has also been involved with raising funds for the Matthew Larson Foundation through the high school's CT22 Club.
Taub said he was amazed at the number of people who were at the dedication, including old friends, his mother, nieces and nephews and several other relatives, Casey's teachers, school administrators and some varsity soccer players.
"For generations to come kids will come up here and they will read the plaque and their parents will read the plaque," Taub said. "Kids will ask 'Where's the game?' and they will say 'It's at Casey Taub Field.' Forever people will say Casey Taub. His presence and his name will be with us for generations to come. That is my hope."