New Castle Gets Serious About Town's Energy Saving Program
We are part of The Trust Project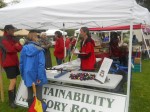 When New Castle Supervisor Susan Carpenter visited the Chappaqua Farmers Market last Saturday morning her top priority wasn't necessarily to shop but to take care of another piece of vitally important business for the town.
Carpenter and members of the town's Sustainable Advisory Board were on hand to talk to the public about the steps that can be taken to make their houses more energy efficient. Their presence at the market was the rollout of Energize New Castle's plan to encourage residents to reduce the town's carbon footprint by conducting an energy audit and learning about tips they can employ to save energy and money.
"This is something inexpensive that people can do," Carpenter said. "It doesn't cost really that much to do an energy audit and once you get done doing an energy audit, you can do as much of the tightening of the house as you want."
The two most significant places where residents can realize savings in New Castle is by making residences more energy efficient and through their transportation habits, said Beth Sauerhaft, chair of the Sustainable Advisory Board. Just over half–precisely 52 percent–of the town's carbon footprint is produced by its residential structures.
Although there had been a strategy session at town hall since November, last Saturday was the rollout of the Energize New Castle program. It is patterned similarly to Energize Bedford and the growing statewide initiative Energize New York. Bedford has been one of the municipal leaders in the State to encourage and educate residents on strategies to save energy throughout the year, by keeping a house cooler in summer and saving on heating bills in winter.
Sauerhaft said that signing up to do a free home assessment, homeowners have access to innovative financing programs to limit the cost of work that may need to be done. Furthermore, they are provided a list of contractors who are part of the Energize program so homeowners can feel confident they are choosing from reputable firms. The state even has an energy coach that came to Sauerhaft's home when she did her assessment.
"It's sort of a no-brainer in a way once you get started and the beauty of the Energize program is that you have people that will help you through the process," Sauerhaft said.
"You don't feel like you've been taken, you see the reduction on your energy bills and you feel the change immediately in the comfort of your house," she added.
While the state and federal governments search for new energy sources, for Carpenter the most important step the individual can take is to find ways to reduce consumption.
"We need to think about using less energy before we can think about how can we get more sources of energy so that we don't have to import oil," Carpenter said. "We need to think about how to use less energy."
For more information about the program, its benefits and how to sign up for an home assessment, visit www.energizenewcastle.org.