New Castle Celebrates 25th Renewal of Town's 10K Race
We are part of The Trust Project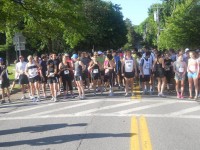 At eight o'clock on a Sunday morning, when most towns would just be starting to rouse themselves, a burst of bright music to match the weather started off the festivities for the 25th annual New Castle 10K Road Race. 
Starting on South Greeley Avenue and ending at New Castle Town Hall, about 150 runners tackled the fast-paced tour through the town. Before the start, runners of all ages and levels warmed up in preparation for the notoriously hilly course.
Besides the chance to win, participants had many motivations driving them to compete. Adam Troso, who started running eight years ago, uses the race as an annual fitness test. Eleven-year-old Owen Wolman, who finished the course in 59:32, said he loves running because he feels a sense of achievement.
Haijing Wang said she runs to be fit and to have the energy to be a working mother.
"I've run two 5Ks and I wanted to see if I could do a 10K," Wang said.
Participant Denise Stogdill was attracted to the race to be part of a community event and to spend time outside on a beautiful morning as well as the chance to experience a race environment.
The racing environment was an exciting one. Matthew Kiplagat of New Rochelle led all men with a time of 32:45, only 18 seconds off the course record. Kiplagat, representing the Westchester Roadrunners Club, has been running for six years, typically participating in races ranging from 10K to half marathons.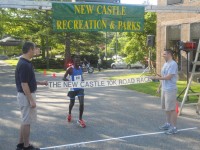 Kiplagat chose the challenging course to improve his "speed work," as well as to recover from a recent injury.
His victory was a bit of an upset, as he finished 2:06 ahead of former Horace Greeley High School track standout Henry Koster, the men's winner for three of the past four years.
"I could tell in the first mile he was good," Kiplagat said of Koster. "At a 4:40 or 4:30 pace you know (he's) a good runner."
Koster had returned to town only a day before from Williams College, where he runs cross-country and track.
Daphne Tsoulas, the women's winner in 2008 and 2009, captured her third New Castle 10K. She competed in college at the University of Pennsylvania but quit because of injuries.
"I guess I'm still in shape," she said.
Recreation & Parks Commission Chairman Daniel Hess said the course is a challenging one because it consists of gradual uphill climbs and short downhill bursts leaving the runners with no recovery time after running up an incline.
The race was made possible through the collaboration of the New Castle Recreation & Parks Department, the town board, volunteers and sponsors. Cheering family members and residents made the race a true community event.
"We just really wanted to give back to the community," said Adam Pliskow of New Castle Physical Therapy & Personal Training in Millwood, the title sponsor of the race.
Pliskow said the company jumped at the chance to sponsor four years ago. With all of the incentives to take part in the event, he said it was a testament to how athletics can bring people together to join a community activity and enjoy a beautiful spring morning.
The complete order of finish can be found on the Recreation & Parks Department page on the town's website at www.mynewcastle.org.
By Sarena Malsin