New Castle Agrees to Take Wallace Auditorium at Chap Crossing
We are part of The Trust Project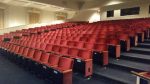 The New Castle Town Board voted Tuesday night to accept the Wallace Auditorium at Chappaqua Crossing from property owner and developer Summit/Greenfield despite at least several hundred thousand dollars of needed improvements.
The decision by officials to assume ownership of the 30-year-old, 400-seat facility comes with the hope that it will provide the town with a performing arts center for a variety of productions and concerts and serve as a cultural hub. Officials are also optimistic that the theater could be rented to outside groups.
Under the terms of last year's Chappaqua Crossing site plan approval obtained by Summit/Greenfield, the town had until Sept. 1 to decide whether to take the auditorium.
The resolution, which will continue the current lease agreement through Dec. 31, 2017 unless the deed is conveyed to the town before then, was approved by a 4-0 vote. Councilwoman Hala Makowska abstained because the town has yet to undertake a business plan to analyze expenses and revenues.
Supervisor Robert Greenstein said while he understands that the town must spend money to make needed renovations, he did not want to risk losing a facility that would take millions of dollars to replace but the town is acquiring for virtually nothing. If the town declined to take the auditorium, it would likely be demolished by Summit/Greenfield, officials said.
"Looking in the long term and the big picture, and looking at other theaters, Tarrytown and Port Chester and what the Jacob Burns theater did to Pleasantville, I think we're making a terrific decision and I'm looking forward to enlisting all the residents who have offered to raise money for the theater and start making this an incredible asset to the town, which it will be," Greenstein said.
At a July 12 work session, the board was told that an estimated $150,000 was needed to replace the original roof as well as $130,000 for fascia replacement. Annual maintenance costs are projected at $72,200.
Building Inspector William Maskiell provided officials with an overview of short- and long-term projects that need to be addressed based on a 2015 on-site inspection of the building, many of which have no cost estimate yet.
He said one of the most important renovations were the steps and patio leading to the entrance.
"The entrance patio is falling apart and the steps going into the building, the repairs there have to be number one on your list," Maskiell said. "Someone is going to fall, someone is going to get hurt."
While the auditorium is about 70 percent ADA compliant, he said, handicapped access would need to be installed. Other needed work would be to upgrade the exterior lighting; improve the entrance doors and various windows, replace wood sections; painting; replacing tiles in certain locations; and remove mold.
During Tuesday's meeting, town resident Margaret Ferguson said she was supportive of the town taking over the auditorium but strongly recommended that officials postpone the vote until it has a business plan.
"I know you've done a lot of work. I think it's a good idea, but to me it's a scary prospect not know where we're going step by step by step," Ferguson said. "Before anything is spent, there has to be a comprehensive business plan of revenues, repair costs, transition costs of coming to a theater and how we're going to get there."
However, Councilwoman Lisa Katz said the town wanted to obtain ownership to allow a group of residents to form a nonprofit organization that can accept tax deductible donations.
"We have a phenomenal group of residents that are working really, really hard to make sure that this will be a success," Katz said. "There are a lot of great things planned."
Makowska said she was in full support of the concept but could not back the resolution because of the lack of a business plan, something that she has been pressing for over several months.
"Although I support this project, I feel that not enough financial information is provided to make a fully informed decision," Makowska said. "I do want this project to be successful and do hope that between now and budget time we will have a basic business plan that will help us understand how we're going to pay for it."
Councilman Jeremy Saland said he backed the resolution so the town could hold onto the auditorium, but remained concerned about potential escalating costs the town would have to incur.
Chappaqua resident John Ehrlich, one of the residents who is interested in fundraising, said the town would also have to invest money in improving the auditorium's acoustics. He estimated $125,000 for acoustic panels, $20,000 for installation and $25,000 for a consultant.
The auditorium was named for DeWitt Wallace, a philanthropist and co-founder of Reader's Digest.