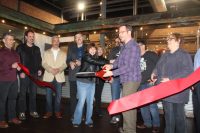 It was fitting on National Beer Day Saturday that a celebration would take place at the new River Outpost Brewing Co. in the Factoria on John Walsh Blvd. in Peekskill.
Local elected officials, business leaders and others took part in a ribbon-cutting ceremony for the brewery, which actually opened its doors a few months ago behind arcade games and inside bocce and shuffleboard courts in the first-floor entertainment complex known as Spins Hudson.
"Having the opportunity to partner with Louie Lanza and John Sharp in such an historic building was kind of a no-brainer. It just made perfect sense," said Scott Vaccaro, founder of Captain Lawrence Brewery, which started in Pleasantville 12 years ago and is now headquartered in Elmsford.
"We have been here. Now come and drink," said Lanza. "It's one of the few places you can bring kids in a safe environment and have a few beers."
The brewery offers a menu of bar food and eight beers on tap that are brewed on site, from pale ales to porters.
In June 2016, the state Senate and Assembly passed legislation that provided an exemption for Diamond Properties and Captain Lawrence Brewery to operate a restaurant/brewery at another location. Diamond Properties currently runs several eateries with retail permits in Westchester, including one in Mount Kisco.
The two proprietors are exempt from regulations dating back to prohibition under the state's Alcoholic, Beverage and Control law that restricts ownership interests between alcohol manufacturers, wholesalers and retailers.
The brewery is the final piece of the $6.5 million redevelopment project at Charles Point Marina. The top floor features a restaurant, Fin and Brew, and banquet space for weddings and other large events.
Hudson Valley Chamber of Commerce Executive Director Deb Milone was one of many local dignitaries who welcomed the new business.
"This is a really exciting day for us," she said.
"It's wonderful to see an historic site in Peekskill reused for new business," said County Legislator John Testa (R/Peekskill), who presented the brewery owners with a proclamation, as did a representative for State Senator Terrence Murphy (R/Yorktown).
The current hours of the brewery are: Thurs. 5 to 10 p.m., Fri. 5 to midnight, Sat. noon to midnight, and Sun. noon to 8 p.m.