Near Dead Heat in Race for North Castle Supervisor
News Based on facts, either observed and verified directly by the reporter, or reported and verified from knowledgeable sources.
We are part of The Trust Project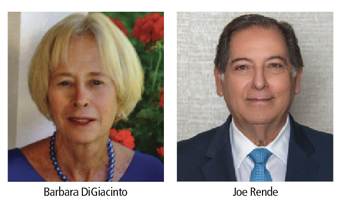 North Castle will have a new supervisor on Jan. 1, but it's going to take a while longer before it's known who that will be.
After early voting tallies and machine vote counts from Election Day voting were completed late Tuesday night, the matchup between Republican Barbara DiGiacinto and Democrat Joe Rende is nearly a dead heat.
Totals released by the Westchester County Board of Elections after midnight showed Rende with a one-vote lead over DiGiacinto, 1,569-1,568.
Meanwhile, in a close but not quite as tight battle for the two Town Board seats up for grabs, two-term incumbent Democrat Jose Berra appeared headed to victory, getting the most votes in the four-candidate contest with 1,616. He was followed in second place by running mate Saleem Hussain, who was in his first re-election bid, collecting 1,524 votes. Republicans Larry Ruisi and Mel Orellana were next with 1,490 and 1,447, respectively.
Rende said Tuesday night that a recount will be mandated followed by the tallying of the absentee ballots. There were 120 absentee ballots that had been requested from the Town of North Castle, according to Democratic Committee Co-chair Linda Fernberg. The committee had been informed that 52 of those ballots had been returned before machine voting on Tuesday, she said.
However, more absentee ballots could still be in the mail and would be counted as long as they are postmarked prior to Election Day.
Before the Board of Elections updated its numbers, about an hour earlier Rende was leading by 11 votes.
"I'd much rather be up by 11 than down by 11, so I'm optimistic that it can grow or at least hold," he said.
This was the first contested supervisor's race in North Castle in 10 years, since outgoing Supervisor Michael Schiliro won the first of his five terms. A little more than two weeks before the election, Schiliro, a Democrat, endorsed the entire slate of Republican candidates.
This article will be updated as more information becomes available.