Murphy Sworn in as State Senator in Yorktown Ceremony
We are part of The Trust Project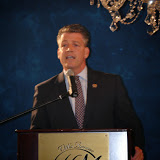 By Rick Pezzullo
New York State Senator Dr. Terrence Murphy (R,C/Yorktown) was sworn in on New Year's Day in his hometown in front of hundreds of family, friends and supporters in a packed Yorktown Stage.
Murphy, 48, flanked by his beaming wife Caroline and children McKayla, Jack and Kian, took the oath of office for his first two-year term representing the 40th District from former Yorktown Town Justice and current New York State Supreme Court Justice Mark Dillon.
"Being here today I have to pinch myself. This is unbelievable," said Murphy. "I'm completely overwhelmed with the outpouring of support that people have shown me. From the bottom of my heart I can't thank you enough. I will do my best to make you proud and fight for a future to make us all proud."
A chiropractor and part owner of Murphy's Restaurant in Yorktown, Murphy handily defeated Democrat Justin Wagner in November to succeed Greg Ball, who opted not to seek reelection after four years in office. The 40th Senate District covers northern Westchester, all of Putnam and part of Dutchess County.
On New Year's Eve, Murphy handed in his resignation to Town Clerk Alice Roker, ending a five-year run on the Town Board that was his first experience as an elected official.
"It has never been about politics for me. It's been about helping my neighbors," Murphy said during his inauguration, which included such guests as Yorktown Supervisor Michael Grace, Peekskill Mayor Frank Catalina, Westchester County Legislator John Testa (R,C/Peekskill), Putnam County Executive MaryEllen Odell, Deputy Westchester County Executive Kevin Plunkett and Westchester Chief of Staff George Oros, who served as the master of ceremonies.
Oros said he was honored to call Murphy a friend and praised him as "a dedicated father and a loving husband" with a "charming smile and infectious laugh."
"We seldom meet someone in politics that we would want to have a beer with," Oros remarked. "We have elected a terrific man to be in Albany."
Murphy said it was a "team effort" that led him to victory over Wagner and he vowed to be a senator that will be held accountable for his record in Albany.
"You came out in droves. You had your trust in me and I won't let you down," he said. "When we all work as a team we can accomplish an awful lot. I stand in awe of the sacrifices we all made and the effort to save this state. If I'm not representing you in the right way, give me a call."
Murphy revealed that he had been given the opportunity to chair a committee on economic development in Albany and would focus on improving New York State's current standing as being last in the nation as "business friendly" and first in the country in high property taxes.
"I will work to bridge the gap between business and government. There's no Republican way to fix potholes. There's no Democratic way. There's only the right way," he said, noting he had a "common sense plan to get taxes under control."
He also made several references to his late father Jack, a union worker who was employed with Con Edison for more than 50 years and inspired his siblings and his mother to open Murphy's Restaurant in his honor in 2006.
"I know my dad would be proud of me standing here," said Murphy. "My dad taught me the value of hard work and a good beer. I'll never forget where I came from. It's a dream come true for me and the opportunity of a lifetime. I will make sure our families are taken care of. When we put our families first we can make this a great community."