Murphy: School Nurses Should Administer Narcan to Combat Overdoses
We are part of The Trust Project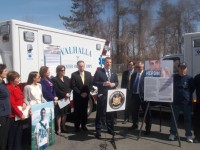 State Sen. Terrence Murphy (R-Yorktown) appealed last week to the state Department of Health to allow school nurses to be able to administer Narcan, a life-saving treatment often used to counter a heroin overdose.
Murphy, co-chairman of the New York State Task Force on Heroin and Opioid Abuse, said that the recently approved 2015-16 state budget includes $272,000 for school districts statewide to obtain Narcan kits.
Participation in the program is voluntary to avoid tacking on another unfunded mandate, he said.
"We're not going to wait until our kids drop dead," Murphy said last Thursday while accompanied by school officials from throughout his district and representatives of anti-drug organizations at the Valhalla Ambulance Corps headquarters. "This has been a simple-to-work, common sense piece of legislation and a funded piece of legislation that we have gotten through on this budget. It's extremely important to realize and control the epidemic that's going on here in the Hudson Valley."
Murphy said the task force is going to meet with state health officials in the coming weeks to revise the parameters of who may administer Narcan, an antidote that is placed in the nose. He is optimistic that school nurses trained and certified in administering the treatment will be added to that group at least in time for the start of the new school year in September.
Judy Mezey, of Student Assistance Services, said while no student in Westchester has died from an overdose while in school, having a kit available could mean the difference between life and death.
During the Apr. 16 press conference, Mezey pointed to a photo of Justin Veatch, the Yorktown teenager who died from an overdose in 2008 at 17 years old, and said if there had been an episode in school, personnel would have been ill-equipped to handle the situation.
"It could have happened in school and if it did Narcan could have saved his life," Mezey said.
The likelihood of an overdose occurring in school is increasing because heroin use appears to be on the upswing, Murphy said. Last year, there were more deaths from heroin in New York City than murders and two weeks ago Erie County reported 13 overdoses in one week, he said.
Also, the five lower Hudson Valley counties of Westchester, Putnam, Rockland, Dutchess and Orange are considered high intensity drug trafficking areas, Murphy said.
Carol Bumbalow, a nurse at Walter Panas High School in Cortlandt, agreed with Murphy's plan, saying it makes sense for her and her colleagues to have the chance to save lives.
Murphy said while this program isn't the long-term solution to the area's drug problems, it at least provides a way to prevent needless deaths.
"Is this the answer to the solution? No. This is a band-aid to save lives until we can get to the root of the problem," Murphy said.