Murphy Proposes Rules Reform Package During 'Sunshine Week'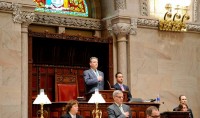 State Senator Terrence Murphy (R/Yorktown) presided over a state Senate session for the first time since being in Albany last week and took the opportunity during 'Sunshine Week' to propose new legislation that would allow more public discourse and transparency in state regulations.
Murphy, who was elected to represent the 40th Senate District last November, explained his rules reform package was designed to take the decision-making process out of the hands of "Albany bureaucrats" and back in control of elected representatives and their constituents.
"We cannot continue to allow unelected bureaucrats to impose job-killing regulations from on high," Murphy remarked. "It's time to shine a light on the rule-making process."
The package unveiled by Murphy includes five separate bills. The first would allow a process for the public to seek adoption, repeal or other changes in state agency rules after submitting a petition with 100 or more signatures. Another would establish a negotiated rule making process for small businesses requiring a consensus be reached before any rule affecting their affairs is promulgated.
Murphy is chairman of the state's Administrative Regulations Review Committee. A separate bill co-sponsored by Murphy that won Senate approval calls for a full review of rules and regulations that predate 1999, in addition to requiring a five-year review of all agency rules.
"As a small business owner I can tell you firsthand that the miles of red tape caused by the layers of rules and regulations in New York are doing more harm than good," said Murphy. "From my experience with the Yorktown Health and Wellness Center, and my family's experience with our restaurant (Murphy's in Yorktown), many of these rules and regulations are approved with little input and transparency. It is our responsibility to ensure there is greater transparency and disclosure within the rule making process which I believe my legislation will help do."