Murphy Easily Defeats Castelli in 40th Senate District GOP Primary
We are part of The Trust Project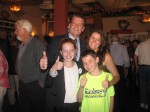 Yorktown Councilman Terrence Murphy, the Republican Party-endorsed candidate for the 40th state Senate District seat, scored an easy primary win over former Assemblyman Robert Castelli Tuesday night.
Murphy will now face Democrat Justin Wagner in the general election to determine who will succeed outgoing Sen. Greg Ball. In May, Ball revealed he would not seek re-election and at the same time announced Murphy as the choice to represent the Republicans.
"What a tremendous win," Murphy said at his family's restaurant in Yorktown moments after Castelli conceded at about 10:15 p.m. "It's very gratifying. This is awesome. We ran a really hard campaign and I look forward to the November election. It will be another hard fought campaign. I'm looking forward to it."
Once returns started coming in shortly after the polls closed, the outcome was never in doubt. Murphy dominated in Westchester, Putnam and Dutchess counties, collecting 3,953 votes to Castelli's 1,716, according to unofficial tabulations late Tuesday night from the three counties' board of elections.
Castelli, who gathered with supporters in South Salem to await the results, congratulated Murphy in a telephone conversation. Despite a campaign that contained a few harsh words, particularly mailers sent out over the summer ripping Castelli, he said he would "absolutely" support Murphy for the November election. The seat is one of a handful statewide that is seen as crucial in determining the balance of power in the Senate.
Castelli, who had been eyeing the seat since he was defeated two years ago in his re-election bid in the Assembly, said he wanted to give party members a choice in determining their candidate.
"The people have spoken and we honor the will of the people," Castelli said while thanking his supporters. "It's now time to come together as a party and to once again, as the party of Lincoln, move on to November and win and hold this seat for the Republican Party."
He said he was unable to offset the wide disparity in spending, as the state GOP poured in money to help Murphy. Castelli estimated that he was outspent by at least a five-to-one margin.
"At the end of the day we could not outspend our opponent but no one outworked us in this one," Castelli said. "So from the bottom of my heart I thank you again."
Before the night was over, Murphy was looking ahead to his match up with Wagner and predicting victory. The Democrat narrowly lost to Ball in 2012, easily winning the Westchester portion of the district but getting drubbed in Putnam and Dutchess.
"Justin ran against Sen. Ball last time and he lost and I think he's going to be 0-2," Murphy said. "I have a proven record. There's no ifs, ands or buts about it. At the end of the day it's about telling the truth. Albany needs a fresh new face and I intend to be that new face."
Rick Pezzullo contributed to this article.