Multi-Million Sports Complex in Shrub Oak on Horizon
We are part of The Trust Project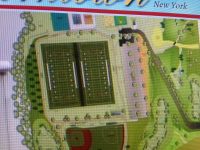 A state-of-the-art sports complex planned off Stony Street in Shrub Oak was widely applauded during a public hearing last week.
"The facility has it all. It will rival any community recreational facility. I think it will be wonderful for the town," Yorktown Supervisor Michael Grace told a standing-room only crowd during the three-hour hearing at Town Hall.
The Granite Knolls Sports Complex is slated to include two multi-purpose turf fields, a baseball field with a press box and bleachers, a golf putting green, basketball courts, handball courts, a pavilion, playground equipment, and restrooms on a 15-acre section of town-owned land.
Montesano Bros., Inc., owned by a Yorktown resident, submitted the winning bid of $3.8 million for the project, but Grace noted that price tag did not cover the cost of the turf and some of the buildings, which he estimated could be an additional $300,000 to $400,000. A wide range of bids came in as high as $9.6 million.
"I may not be able to make due on my promise that it won't cost the town any funds," Grace said, adding the town had money set aside in a recreation fund. "This is an investment in the future of the town. I see this as an opportunity that the town should seize upon."
Many residents, specifically those involved in youth sports organizations in Yorktown, strongly sided with Grace's sentiments.
"I have never, ever seen a facility quite like this. This would put Yorktown way about everyone else," said Joe Buchelo, a 36-year town resident and youth coach. "Our youth sports need this more than anything. We would finally have a facility that shows how much we care about our youth. This has to get done."
"This is beautiful. This is amazing. We should have had it 20 years ago," remarked Rick Romanski, president of the Yorktown Soccer Club for the last 17 years. "We need this. Not investing in the future of your community is absurd."
The site, located next to the former Phoenix House and recently approved Shrub Oak International School, was purchased by the town in 2010 for passive recreation and has been used by Yorktown Athletic Club football for practices in recent years.
"This project is so important to the kids of Yorktown," said Matt Talbert, YAC football commissioner. "This will be filled all the time. For there to be any chance of it not happening would be a shame."
A few speakers questioned building a sports facility near a gas pipeline, while Loretta Chavone, a resident of Stony Street since 1981, expressed concerns about the safety of the winding roadway, which has no street lights or sidewalks.
"The road has been treacherous for the 36 years I have been there. It's a death trap," said Chavone. "Kids cut through these streets like a bat out of Hell."
The Yorktown Town Board is expected to approve several resolutions related to the project Tuesday night (July 18). Grace said the playing fields should be ready to open in the spring.
"We have a gun to our heads to get the fields operational," Grace remarked. "It's a beautiful location. You feel like you're at the top of the world up there."