Mt. Pleasant Residents Debate 'Racially Polarized' Voting Patterns in Town
We are part of The Trust Project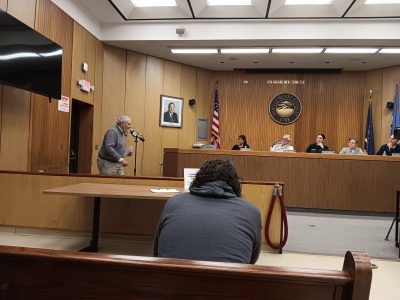 Mount Pleasant residents were mixed last week on whether the town should make changes to its voting system or fight a state law after a recently-released report found its elections are racially and ethnically polarized.
The first of two public hearings was held last Thursday at Town Hall in Valhalla the day following election law experts Dr. Lisa Handley and Jeffrey Wice releasing a report stating that the current at-large system of voting for council members diluted the votes of the town's Hispanic population, many of whom live in the Village of Sleepy Hollow. Handley and Wice were retained by the town in August after five town residents threatened legal action under the 2022 New York State Voting Rights Act.
The allegation by the five residents allowed the town to have a review of its elections, hold public hearings and propose remedies under the law.
Pleasantville resident Jonathan Blackman, an attorney who has worked on election cases at the federal level, said the information brought forth in the report "is a clear case of voter dilution." He urged the Town Board that rather than engage in costly litigation it should find ways to have all areas of Mount Pleasant represented in town government.
"You have a minority group that if we had wards or single-member districts in the town, would have a significant likelihood of getting elected candidates of choice for the areas that is now the Village of Sleepy Hollow because they are, in effect, swabbed or diluted by the larger non-Hispanic population of the town, they're effectively deprived of a voice in town government," Blackman said.
But there were nearly as many speakers during the hour-long hearing who urged the board to fight any changes. Some of those stated that there haven't been candidates to run for supervisor or Town Board who live in Sleepy Hollow.
Resident Alexander Zadrima, a Thornwood attorney, said the Town Board should make its case at trial rather than appease those whose candidates have been unable to win elections.
"If there was something that prevented the residents of Sleepy Hollow from presenting someone to be on the board, that's different because that would be illegal," Zadrima said. "But we can't just do something to appease people, to appease someone who wants to strongarm the board and to re-district and to do things to satisfy them."
Mount Pleasant's population is 68.7 non-Hispanic/White and 18.9 percent Hispanic, according to the 2020 U.S. Census. Despite nearly one in five residents being Hispanic, virtually all of that community's preferred candidates have lost town elections, the Handley reported noted. The Village of Sleepy Hollow, which is about 50 percent Hispanic, is part of the town.
"All six of the recent Mount Pleasant elections I analyzed were racially/ethnically polarized, with Hispanic and non-Hispanic voters consistently supporting different candidates," Handley's report concluded. "The candidates preferred by Hispanic voters won only one of the six polarized contests."
The only victory the report cited was in 2018 when a special election was needed to fill a vacancy on the Town Board. Since that year featured a gubernatorial election and a congressional mid-term election, turnout was much greater, it noted.
Handley wrote that she carried out the analysis of voting patterns by race by constructing an aggregate level database to examine the results in individual election districts. Information relating to the demographic composition of these districts and the results of recent elections district by district was collected, merged and statistically analyzed to determine if there is a relationship between demographic composition and support for specific candidates across the precincts, she stated.
Since Hispanic people represent a large enough portion of the population, a statistically reliable estimate could be derived, Handley reported. The same could not be achieved for Black and Asian populations because they represent only 5.2 and 4.6 percent of the town's population, respectively.
Hawthorne resident Jim Russell, a town Republican district leader, called on the board to get a second opinion from another expert to offset what he called "radical" legislation.
"I think we have to recognize this for exactly what it is; it's a political ploy by the Democratic Party to gain power in New York State, starting with our town and if we back down, every town that has similar demographics will also be confronted by this," Russell said. "So there's no better expenditure of these tax dollars than to stand up and protect our traditional voting system."
But others argued that residents of certain areas of town don't feel part of their town but pay taxes to Mount Pleasant just like those residents who live in the unincorporated areas of Hawthorne, Thornwood and Valhalla.
"The only people I have not heard from are the people from Sleepy Hollow, and as a Spanish American I think that's telling," said Hawthorne resident Don Maldonado. "This is a huge town. We are diverse and we all need to be heard. It's that simple."
Bruce Campbell, a former three-term Sleepy Hollow village trustee and the only person from the village to speak, said town officials should look to correct how for decades Sleepy Hollow has had no representation on the board.
"Since you represent these folks, you should feel bad that a section of your constituency has for so long been denied, essentially, the franchise, has had a diluted vote, and has created a situation where it's impossible because of the geographic representatives of different groups so concentrated in one area, a group that can't rise to the top of a general area when there are other people around," Campbell said.
His remarks were interrupted when a woman in the audience charged that Democrats were looking to change a system that's been in place for decades because they can't find winning candidates. Only one Democrat has served on the Town Board in about 35 years, the result of the 2018 special election.
"You are trying to hijack this board because they are all Republicans," the unidentified woman charged. "They are Conservatives. If they were Democrats, would you?"
Another person in opposition, Dee Rodman of Valhalla, called those who can't get their candidates elected "sore losers that are getting really whiny about losing."
The report recommended types of remediation, including switching to a ward system rather than at-large council seats, enlarging the size of the board, requiring expanded opportunities for voter registration, additional voter education, switching to even-numbered year elections or ranked-choice voting, among other steps.
Some who agreed with the report also had mixed feelings about a ward system.
The report was generated after five town residents called on the town to change to a different voting method under the 2022 New York State Voting Rights Act. In a July 13 letter to the town, the group of residents maintained that Mount Pleasant is in violation of the new law because years' worth of election data reveals "significant and persistent patterns of racially polarized voting with regards to Hispanic voters."
David Imamura, an attorney for the group of residents who was unable to attend Thursday's hearing but listened to it remotely, said he applauded town officials for taking the steps they have taken so far.
He said the purpose of the challenge is not necessarily to get a Hispanic candidate elected, but to provide a genuine opportunity for the entire community to be represented by candidates of their choice.
"The law says that the structure of the town government and the town electorate is preventing the Hispanic community from electing the candidate of their choice," Imamura said. "So no matter how many Hispanic voters come out, they will always lose. That's what the town's report said."
Imamura said that California enacted a similar law about 20 years ago and every municipality that has challenged it has been defeated in court.
New York's law mandates that if the matter goes to court and the municipality loses, it is responsible for the plaintiffs' attorney's fees.
Mount Pleasant is the first municipality in the state to be challenged under the state Voting Rights Act.
The second hearing is scheduled for Monday evening at Town Hall at 7 p.m.