Mt. Pleasant Native to Show Kids How to Have Fun With Fitness This Sunday
We are part of The Trust Project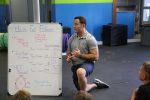 Matt Fisher understands as well as anyone the problems of childhood obesity and the negative impact that a sedentary lifestyle can have on a person's health.
As a physical education teacher in the Bronxville School District, he is astounded when some students tell him that they typically spend two hours a day playing video games.
This Sunday, Fisher, a Mount Pleasant native, has teamed up with the town where he grew up to organize the Have Fun Fitness Kids Race, an obstacle course consisting of 15 stations that includes inflatables, a water slide, a Gaga pit, a tire flip and other age appropriate activities.
The first-of-its-kind event locally will be held at Hawthorne's Broadway Field for children ages 5 to 13 and be divided into age groups.
Fisher explained that children naturally want to be active and have fun. But if at a young age the physical activity consists of trying to beat a stopwatch while running a mile, many will find something else to do.
"The goal with something like this, these kids want to be active and having fun and the way I see it with the Have Fun Fitness classes, if they're having fun at a young age, they're going to want to do it later in life," Fisher said. "If they're not having fun with it, why would the kids do it?"
The day will start at 10 a.m. with two hours of children being able to play on the obstacles much like they would at a playground. There will also be a DJ and food sold by area restaurants.
Then at 12:15 p.m., the first of the races will go off, with the older children going first because they are expected finish more quickly, Fisher said. Each participant will receive a race day shirt and a medal at the finish line. A portion of the proceeds will benefit Blythedale Children's Hospital.
Fisher, who recently launched Have Fun Fitness, a small business he runs out of CrossFit Immortals in Pleasantville with a similar concept, sees how much enjoyment children can have. He also has teaches a CrossFit program for teenagers.
"It's almost like they don't even know that they are active," Fisher said. "I've gotten really great feedback with this and I believe that's the main goal with this."
For Fisher, holding the event on Father's Day has extra meaning for him. The day is intended to be a family event, plus his father, who recently passed away, had been a Little League coach. Hawthorne Field holds a special place in Fisher's heart.
"We're pulling out the stops to make the kids show up and hopefully to make this an annual event," he said.
Children do not have to be a Mount Pleasant resident to sign up. The cost is $35 a child. Registration is available online by visiting www.havefunfitness.com/kidsrace. The rain date is Sunday, June 26.