Mt. Pleasant Cops, Millwood Fire Dept. Show Heart in Chief's Challenge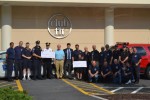 It may be surprising that the biggest health risk for a firefighter on the job isn't burns or smoke inhalation. It's suffering a heart attack.
That's why Briarcliff cardiologist Dr. Frank Zimmerman, director of critical care at Phelps Memorial Hospital, implores his patients who are first responders to get checked regularly, eat right and get plenty of exercise.
To help them achieve that goal, Zimmerman partnered with Club Fit in Briarcliff and Jefferson Valley late last year to launch the "Chief's Challenge," a friendly three-month competition among police and fire departments throughout Westchester and Putnam. Members from participating departments received free access to the health club and had their attendance charted. The winning departments, one police and one fire, had the highest average number of visits relative to the size of the department.
Last Thursday afternoon, Zimmerman and Club Fit presented $500 checks to the chiefs of the two winning agencies–the Mount Pleasant Police Department and the Millwood Fire Department. The money is from the Heart and Health Education Foundation, which Zimmerman leads with fellow cardiologists Dr. Arthur Fass and Dr. Dina Katz.
Zimmerman said long stretches of inactivity interrupted by a sudden burst of physical stress, often under some of the most extreme conditions possible, places firefighters and police at higher risk of a heart attack than the general population.
"Firefighters typically have 80 pounds of equipment and have to operate in a high heat, low oxygen environment," Zimmerman explained. "A police officer may have to run up five flights of steps. Now, you and I may have to do that but there's not a guy standing with a gun at the top of those stairs."
Millwood Fire Chief Greg Santone, a longtime Club Fit member, said the participation among the 52-member department was better than what he had anticipated. About 15 firefighters were regular participants, he said.
"We talked to every one of our members to think about it," Santone said. "Some guys don't want to hear too much about it. We just tried to do it in a nonthreatening way."
Louis Alagno, chief of police for Mount Pleasant, said a Tarrytown detective that he knows told him about the program. As president of the Westchester County Chiefs of Police Association, he posed the idea to his colleagues across the county and there was considerable interest.
Alagno said he was pleasantly surprised to see that his department took the challenge seriously. Physical fitness is critical, particularly as officers get older.
"You spend eight hours a day behind the wheel of a police car," said Alagno, who will donate the money to his department's PBA. "It's really taxing and the challenge is the vast majority of police work is so monotonous and so boring it's mind numbing. But then you have these occurrences where you just have to explode and do things you haven't done in a long time. We're really at risk. Staying physically fit is very important."
Zimmerman, who has a special affinity for first responders since his sister is assistant chief of police in San Diego, said it is important for fire and police personnel to concentrate on aerobics–running, jogging, cycling and swimming–coupled with some strength training. After a stressful episode, it can take an entire shift for blood pressure and heart rate to return to normal.
"Regular exercise and fitness can train the body to respond to these emergencies," Zimmerman said.
Firefighter Dan Trotta, one of the Millwood members who helped his department to victory, said he lost 25 pounds during the challenge, which took place the first three months of the year. The success has motivated him to continue and he can feel the difference.
"When the weight starts coming off it just makes you want to come more and more and more," Trotta said. "It makes a large difference taking the weight off."
Zimmerman said he and Club Fit aren't stopping. The departments are now engaged in a similar challenge for the rest of the year. First responders receive a 50 percent discount on membership and the winning departments will each receive a $1,000 check.