Mt. Pleasant Board Candidates Discuss Views on Development, JCCA
We are part of The Trust Project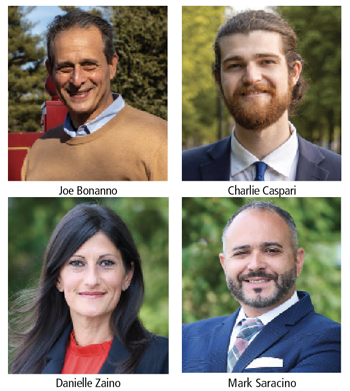 Mount Pleasant voters will have a clear choice in this year's Town Board election, whether to stick with the party which has led the town for decades or go in a different direction.
The Town Board race for two four-year terms pits incumbent Councilwoman Danielle Zaino and newcomer Mark Saracino on the Republican side against Democrats Joe Bonanno and Charlie Caspari. Bonanno ran unsuccessfully for supervisor against Carl Fulgenzi in 2021.
Saracino replaces Councilman Jerry Schulman who decided against running for a second term.
Joe Bonanno
Bonanno touts his experience as a former longtime executive at Nestle as well as his 22 years as a Valhalla volunteer firefighter and eight years serving as a fire commissioner.
For him, the election is first and foremost about the "out-of-control development." The Amazon warehouse under construction on Route 9A and the proposed 31-home cluster subdivision near Pocantico Lake are the latest examples of town officials reviewing project but keeping a lid on information for too long, Bonanno said.
Even without those projects, traffic has become difficult to navigate throughout town, and only promises to get worse, Bonanno said.
"Try getting around Mount Pleasant, try getting around Pleasantville at 3 o'clock," said Bonanno a nearly lifelong town resident. "So somebody needs to be an alternate voice on this board to say, slow down."
The town's Industrial Development Association (IDA) providing tax breaks for developers is helping to accelerate growth, Bonanno said.
He argued that the Amazon warehouse, once opened, threatens to overload Route 9A and surrounding roads with trucks and vans entering and leaving the site. However, the town's mistake was approving a project without knowing the tenant or failing to disclose the applicant.
"If the IDA knew it was Amazon, they should have let people know it was Amazon when it came before them," Bonanno said. "Don't forget, Carl's chairman of the IDA."
The board's vote in the spring of 2022 to allow for a cluster subdivision at the Pocantico site sneakily paved the way for that proposal to be considered, he said.
Bonanno was irked that a county advisory committee recommended Westchester purchase the 36 acres at Pocantico Lake but Fulgenzi and the Town Board have done little to make it happen.
Part of the current board's pro-development proclivity, Bonanno argued, is that in 2021 more than half of the town Republicans' campaign contributions came from development interests.
"If Carl really wanted to make this happen, he could make it happen, and I'm calling on him to make it happen," Bonanno said of working with the county to help it acquire the Pocantico acreage.
Bonanno said the negotiating skills he has honed in his sales and marketing career would be better suited to help the town deal with the problems at the Cottage School. Rather than enflaming a difficult situation, Bonanno said it's time the town does the heavy lifting in working with state officials. He called it "a lack of leadership."
"It's one thing to jump up and down about safety; it's another to do the hard work to get in there and figure out how to make progress on the most dangerous students," Bonanno said.
Bonnano dispelled rumors that he would cut or defund the town's police, saying the department "does a great job" and that he is fully committed to making sure police have the proper resources.
If elected, Bonanno said would press to have work session agendas made public prior to the meeting, similar to most towns in the region.
Charlie Caspari
A SUNY Purchase graduate and current Pace Law School student, Caspari has worked to get younger people involved in the political process, having worked on campaigns. He's worked for former assemblyman David Buchwald and for the City of Kingston Corporation Counsel.
Having moved to Valhalla from Harrison, Caspari said he sensed that many town residents want to see a change in perspective and leadership.
"For this town, whether it's somebody of my generation or not, I think it's time for some new people, and what I've heard is a lot of residents feel the same, Democrats and Republicans, and independents for that matter," Caspari said.
For Caspari, environmental concerns caused mainly by land use decisions is the overarching theme of the campaign, which include traffic and flooding. How those decisions are made has been troubling, he said.
Having the town IDA approve a large tax break for Amazon while their vehicles congest the roads, increase noise and air pollution and dimmish quality of life should not be allowed to happen, Caspari added.
Caspari said he and his running mates don't want to stop development, but it's got to be done smarter and better, such as repurposing empty or underused office parks for much-needed housing.
"We have to build, but it matters what you build, where you build it and how you build it, and there's a lot of places where we can be building or repurposing areas that already exits without building on environmentally sensitive land," Caspari said.
He pledged to pursue a significant number of state and federal grants for flood mitigation work.
Searching for ways to encourage the development of affordable housing is important, Caspari said. A tenant of a Valhalla accessory dwelling unit, Caspari said he would be unable to afford to live in town without it, and those opportunities should be expanded for others.
Caspari said there are real and substantive issues at the JCCA's Cottage School that have caused hundreds of police responses to the facility this year. If elected, he would work hard with the state to make the necessary changes. But he is adamantly opposed to shutting the facility to help the youths it is designed to assist.
Caspari also had some harsh words for Fulgenzi on the state of emergency he imposed in May, which remains in effect. There is a difference between hundreds of migrant families and unaccompanied minor children, he said.
"The state of emergency is based on a lie, a complete and total fabrication and, as far as I can judge, a political calculation to scare his base into coming out," Caspari said.
Having no work session agendas posted on the town's website is another practice that Caspari hopes to change.
"That's something I will commit to, at least putting that into motion," he said. "I mean having an agenda, that's kind of basic. There's really no reason to not have that."
Caspari also hopes to introduce a Mount Pleasant Youth Advisory Board if elected.
Mark Saracino
Saracino has always had a passion for civic duty. Perhaps that came from his mother, who served on the Mount Pleasant Board of Education years ago and the district's Education Foundation.
The lessons of giving back to the community stuck, and Saracino now is one of the candidates for the Mount Pleasant Town Board running alongside incumbent Councilwoman Danielle Zaino.
He has volunteered for the Education Foundation, and for the past six years, has served on the town's Architectural Review Board. In 2016, Saracino co-founded Coalition for a Safe Mt. Pleasant, in response to communitywide safety concerns at Cedar Knolls.
"We did a lot of good work," explained Saracino, who owns a business that provides stone for construction projects. "I know it was criticized by many that we have ill intentions, which was never the case. It was not just to protect our neighborhood and be safe in our neighborhood, it was to protect everybody involved – the kids on campus, the people in the community and that continues to this day."
Saracino applauded Fulgenzi's decision to hold a press conference to shine a light on the dangers now at the Cottage School, which jeopardizes other youngsters' safety on campus and leads to incidents in the community. He also agreed with the state of emergency that was declared in May in hopes of preventing migrants from coming to town, which would further tax resources.
Along with the town attempting to address issues with the state and JCCA representatives, Saracino believes that erecting a fence around the property's perimeter could help discourage Cottage School residents from leaving campus.
Saracino said he's disappointed that national issues have seeped into the local election, but when Fulgenzi issued the state of emergency it was for the safety of the community and the unaccompanied minors that are scheduled to arrive.
"It's not like he's in there saying we're against migrants," Saracino said. "He's there to serve the Town of Mount Pleasant and all of its residents, which includes the individuals that reside at the Cottage School."
Saracino said he doesn't want to see overdevelopment. but for a town to provide services without sharp tax increases a certain level of growth must happen.
Route 9A was the proper location for the Amazon warehouse because it is a truck route, he said. Signage for local traffic only to prevent drivers from cutting through the nearby neighbor and exploring other mitigation measure to help the residential communities should be done.
Regarding Pocantico Lake, Saracino said he has confidence in the Planning Board and the other town's boards to exercise its due diligence to properly review the project.
A big proponent of public safety, Saracino supported the town partnering with its school districts to bring school resource officers into the buildings.
He' looking forward to having a chance to serve on the Town Board
"You do it because you love the town," Saracino said.
Danielle Zaino
Zaino looks to return for a second term, having worked closely with the town's parks and recreation initiatives. She also co-founded Coalition for a Safe Mt. Pleasant with Saracino to address problems previously at Cedar Knolls and at the Cottage School.
She expressed some optimism after a recent meeting involving the town, state and Cottage School representatives and the state Office of Children and Family Services (OCFS) that longstanding issues of safety for the residents and the community can be resolved. Since the summer about 15 youths have been transferred from the campus who could not be handled by staff, which is a start.
With the hiring of more security and clinical staff, Zaino is hopeful there will be some long-term improvements.
"I think they realize that the model that they are using doesn't work anymore," Zaino said. "I'm not sure it really works anywhere these days. So much has changed, so I think they're eager to make these changes, and with OCFS they're doing that."
Zaino supports Fulgenzi's ongoing state of emergency against housing migrants in town, including at the Cottage School. At the time, New York City was sending thousands of migrants across the state, and the town acted on the best information it had at the time.
She also objects to the federal government's program of finding shelter for unaccompanied children at the Cottage School, partly because the JCCA has not proven capable of keeping all its residents safe.
"Who thinks this is a good idea to bring these poor migrants into this situation in this kind of atmosphere right now, and this was our biggest concern," Zaino said.
The councilwoman defended the siting of the Amazon warehouse on Route 9A, a commercial truck route. The rationale for the project was that only employees, and not the general public, would access the site. Furthermore, it would generate extra tax revenue without affecting the schools, said Zaino.
What has been surprising is the level of cut-through traffic on streets such as Belmont Road and Pythian Avenue by local drivers, Zaino said. Because of concerns over access for emergency vehicles, shutting off one of those streets may not be feasible.
"We are going to be doing another traffic study once (Amazon) opens, and we're going to look at Pythian to see what can be done," Zaino said.
At Pocantico Lake, which is undergoing a lengthy environmental review by the Planning Board, the Town Board allowed for clustering to preserve as much of the acreage to remain undisturbed, she said. Zaino said the town is taking the time to balance the rights of the developer, the environment and the concerns of the residents. However, she said recent tests have indicated a level of pollution in the lake.
"You don't want to impact the environment, and whether that lake is polluted or not, that lake needs to be addressed," Zaino said.
Zaino pointed to the Comprehensive Plan update as a positive for the town, which concentrated hamlet revitalization.
The town has begun the process of working to mitigate the severe flooding issues in certain areas by hiring an independent engineering firm, Zaino said, and pursuing grants will be key.
Zaino would like to concentrate on having more workforce housing to accommodate town workers and first responders, but does not believe the town should adopt an affordable housing ordinance.