Mt. Kisco Woman Throws Her Own Wake–While She's Still Awake
We are part of The Trust Project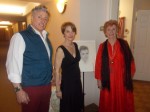 A 75th birthday party is certainly a special occasion. Margaret Marcogliese did something for her milestone year that her friends and family won't forget.
Last Saturday, the Mount Kisco resident commemorated the day by throwing herself a wake to share a good time with those who know her best and love her most.
There was the sign-in book on a small table outside her Sutton Manor apartment door, accompanied by a picture of her as a young woman. People from the building dropped by to pay their respects. Upon departing, there were little black cards shaped like a coffin given away to the guests to remember the event.
A few even wore black, although most didn't go that far. In a vibrant red dress, Marcogliese looked very much full of life.
While even some of her closest friends and relatives were initially taken aback at the invitation, they quickly realized that it was Marcogliese being herself, an always funny, slightly zany lady who keeps herself busy volunteering for a number of committees and organizations in Mount Kisco but who also likes to have fun and make people laugh.
"I really feel that people die and everybody is either too busy or away or doing something else," Marcogliese explained of her rationale for having a living wake. "A lot of people die and you don't see them and you don't know they die. I thought this would be good for me."
Kathy Casey, friends with Marcogliese's daughter, Debbie, for the past 40 years from the time she was growing up in the Bronx, knows exactly what the guest of honor was talking about. While some might find it weird having a wake-themed 75th birthday party, Marcogliese wanted people to celebrate her and her life while she's alive and in good health.
"This is a significant birthday, I think, and having been, unfortunately,. to a few wakes the past couple of months, this is a nicer one," Casey said. "We're taught to celebrate a person who's passed. For the family, it's better to do that when they're still here."
Until seven years ago, Marcogliese, whose actual birthday is March 13, spent most of her life in the Bronx. She moved to Mount Kisco to be closer to her daughter, who lives in Chappaqua, her son, Tony, a Pound Ridge resident, and her grandchildren. She has been divorced since she was 30 and never remarried. Marcogliese worked at a number of different jobs, including once at a funeral home.
Tony Marcogliese said her offbeat nature is what makes his mom so attractive to others.
"She's a good grandmother because she's kooky," he said. "She's not a typical baking cookies type. She likes stuff like this, a fake wake."
However, as off the wall as Marcogliese may seem, her friends agree she has a heart of gold. For those who need a helping hand or a comforting voice, you can count on her to be there.
"She's so giving. She gives and gives of herself to everybody and everything around her," said Susan Surovic, a friend who lives in Carmel. "To libraries, people that are homeless. She works at a pantry, works at a hospital. She does so much for everyone, everybody that she crosses a path with."
She serves on the village's Beautification Committee and volunteers at the Twigs Thrift Shop on Lexington Avenue and at Northern Westchester Hospital.
While 75 sounds old to Marcogliese, she still has plenty of energy. A few years ago she and Surovic decided to take a car trip to Virginia. They called themselves Thelma and Louise.
Two things she wants to do in her life is go on vacation without any luggage and invent something, although she doesn't know what that might be.
"I have a good life," Marcogliese said. "I do."