Mt. Kisco Woman Charged With Stealing $1.4M as Bank Manager
We are part of The Trust Project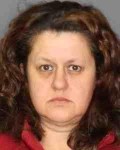 A 46-year-old Mount Kisco woman faces up to 25 years in jail after she was accused Thursday of stealing more than $1.4 million from two depositors during her tenure as branch manager of an Ossining bank.
The indictment, consisting of 27 felony charges, alleged that Maria Rodriguez of 88 Beverly Rd. systematically stole the money over a five-year period starting in June 2008 from the two customers who knew her and trusted her to help manage their accounts at the M&T Bank on South Highland Avenue.
"Most of us rely on our neighborhood bank to safeguard our money," Westchester County District Attorney Janet DiFiore said in a statement. "In this case both victims put their trust as well as their money in the hands of someone who, as alleged in this indictment, took advantage of their trust and stole from them."
Rodriguez is accused of stealing $1,171,357.40 from one victim by writing unauthorized checks to cash, making unauthorized cash withdrawals and requesting an ATM card and making unauthorized ATM withdrawals, according to the district attorney's office. She knew the victim for close to 20 years, authorities said.
The second victim, a 92-year-old retired Village of Ossining police officer, had $267,400 stolen from his account. DiFiore stated that the victim would only deal with Rodriguez and thought he was withdrawing just the interest from his bank account. However, she was making unauthorized withdrawals worth thousands of dollars over several years.
The thefts were uncovered when several of Rodriguez's subordinates contacted M&T Bank's whistleblower hotline to report suspicious activity. The bank then initiated an internal investigation, which led the financial institution to refer the matter to the Village of Ossining Police Department, which contacted the district attorney's office.
Bail was set at $200,000 for Rodriguez.
The 27 felony counts listed in the indictment are one count each of first- and second-degree grand larceny; two counts of first-degree identity theft; four counts of second-degree forgery; four counts of second-degree criminal possession of a forged instrument; four counts of third-degree criminal tax fraud; five counts of offering a false instrument for filing; four counts of falsifying business records in the first degree; and one count each of first-degree scheme to defraud and fourth-degree criminal tax fraud.
Rodriguez is due to return to court on Wednesday.