Mt. Kisco Welcomes Exciting Addition to Village's Nightlife
We are part of The Trust Project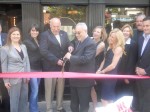 Good food, good music and good times.
That's what Bedford resident Jeffrey Rosen hopes to bring to patrons in Mount Kisco. Last week, with local officials helping to cut the ribbon, Rosen officially opened MTK Tavern in the same location that housed Katie Mac's, and before that, O'Malley's at 30 Main Street.
"We're looking for the 30-plus demographic, people who enjoy going out with friends, trying different foods," Rosen said.
Rosen plans to continue the monthly Wednesday night blues jam that has been a staple for years at whatever enterprise has occupied the space. There will also be a roster of live bands across a variety of genres Thursday through Saturday nights, Rosen said.
Along with adult beverages, the menu includes small plates and light foods. There are salads, stews and a variety of sliders.
For village officials, filling vacancies on Main Street is always a reason to smile, as the downtown slowly recovers from the recession.
"We thank them for investing in our community, especially in this economy and I wish them all the success in the world and the village will cooperate to help them," said Mayor Michael Cindrich.
Rosen, who came out of the corporate world as a former vice president of sales operations and business development for a Brewster company, said he decided recently to have an abrupt change of careers. Gathering for food, drinks and music with friends is one of the most fun things to do, Rosen said.
He hired 20-year chef Eric Mason, who has worked fine restaurants from Manhattan to Westchester, as his executive chef.
"This opportunity presented itself and the boss (Rosen's wife) gave her blessing so we found the right spot in the right town, Rosen said. "It's definitely a little different but it's definitely more fun."
MTK Tavern will be moving into a space that twice turned over within the past five years and on a row of stores that has been in flux. On one side, Wine Junction didn't survive and neither did a couple of different pizzerias on the taverns' other side. However, Cindrich said a lot of that is coincidence and a function of going through the depths of one of the worst recessions.
Mount Kisco Chamber of Commerce President Phil Bronzi said he the tide has turned for the downtown and it has been gradually gaining more traction. The opening of a business like MTK Tavern will only help, he said.
"It's going to be an exciting spot for people to come to," Bronzi said.