Mt. Kisco Restaurant to Donate to Special Olympics With Promotions
MTK Tavern in Mount Kisco is celebrating the 2012 Summer Olympics with a donation to the Hudson Valley Region of the Special Olympics. Now through Aug. 12, which coincides with the Summer Olympics in London, the restaurant is giving a percentage of its proceeds to the Special Olympics Hudson Valley office. As this year's Games take place, guests can enjoy live entertainment, flavorful food and a variety of beer, wine and cocktails, while contributing to a good cause.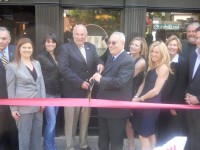 Jeffrey Rosen, owner of MTK Tavern, located at 30 Main St., said every month his establishment finds an organization to make a donation. Last month, the Boys & Girls Club of Northern Westchester in Mount Kisco were the recipients. Next month, the proceeds from the evening of Sept. 5, opening night of the new NFL season featuring the Giants and Cowboys, will be donated to a yet-to-be-named organization.
"We want to give back to the community. The Special Olympics is a great cause. It just seemed like a natural fit," said Rosen, who opened the restaurant in the spring.
During the next two weeks, MTK Tavern has live music lined up for its stage as well as several promotions. Here is a list of the scheduled groups and promotions.
Friday, July 27: Glen Roethel, 6:30 p.m.; Sugarush at 9:30 p.m.
Saturday, July 28: Chris Fox & Mojo Monde, 9 p.m.
Tuesday, July 31: Tuesday Ladies Night. Tequila Night and Tequila Tasting and Cocktails with Bar Manager Christina Loomis. Learn about and try tequilas from our southern neighbors.
Wednesday, Aug 1: Victoria Herrmann (acoustic set with Alex Nolan), 6:30 p.m.; MTK Rock Jam & Revue , 9:30 p.m.
Thursday, Aug. 2: Italian Wine Growers, Inc. Wine Tasting Event, 8 p.m. Come sample wines from the regions of Puglia, Sicily and more. $20 per person.
Friday, Aug. 3: Rich Kelly, 6:30 p.m.; Youth in Reverse, 9 p.m.
Saturday, Aug. 4: Sundown, 9:30 p.m.
Tuesday, Aug. 7: Tuesday Ladies Night. In the lounged beginning at 7 p.m. the double feature of "Sixteen Candles" and "The Breakfast Club" will be shown.
Wednesday, Aug. 8: The "Bring It On Home" Blues Jam, 8:30 p.m.
Friday, Aug. 10: Geoff Hartwell, 6:30 p.m.; Andrea Ekizian and Drew Bordeaux, 9:30 p.m.
Saturday, Aug. 11: The Kelty Twins, 9 p.m.