Mt. Kisco Parking Officer Busted for Stealing $89G From Meters
We are part of The Trust Project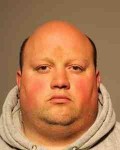 A Mount Kisco parking enforcement officer was arrested Tuesday morning for allegedly stealing at least $89,000 from parking meters throughout the village during the past five years.
Jeffrey Daday, 35, of Brewster, was charged with one count of second-degree grand larceny, after he was accused of emptying and depositing some of the money from the meters into his bank account at the People United Savings Bank on South Moger Avenue, the Westchester District Attorney's office said. Police said the thefts started on Jan. 5, 2009, and continued until this week.
Mount Kisco police were alerted to the suspicious activity and with the help of investigators from the district attorney's office initiated surveillance of the defendant over an undisclosed period of time, law enforcement authorities said.
On Tuesday morning, Daday was confronted outside the bank by police after he made a deposit and was arrested, according to the district attorney's office. He was arraigned in Mount Kisco Village Justice Court and released on his own recognizance. His next court appearance is scheduled for Thursday.
Daday faces up to 15 years in prison if convicted of the charge.