News Based on facts, either observed and verified directly by the reporter, or reported and verified from knowledgeable sources.
Mt. Kisco on Course for Dem Mayoral Primary as Picinich Bows Out
We are part of The Trust Project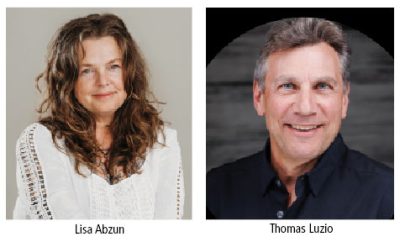 A Mount Kisco Democratic mayoral primary appears likely after the village's Democratic Committee endorsed a political newcomer last week over Deputy Mayor Lisa Abzun as incumbent Gina Picinich announced she wouldn't seek a fourth term.
Abzun, who revealed her candidacy last week, is on a collision course to face attorney Thomas Luzio in a June primary. Luzio worked for more than 30 years in several district attorneys' offices and has "an impeccable background" on ethics, said Democratic Committee Chair William Serratore. Luzio has also worked in the state Attorney General's office.
Serratore said Monday that after a vote of the committee's members, Luzio overwhelmingly received the nod over Abzun despite Picinich's support for her board colleague. The committee ran an open and transparent process and Luzio received greater support, as most members believed he would provide a new and fresh voice, he said.
"We took a vote and that's the way the vote came out," Serratore said. "I have no ill will towards Lisa. I've known her a long time. She's a childhood friend of my wife's. I've known her over 30 years that I've been in Mount Kisco. We just ran a process and the committee preferred the answers of Tom Luzio."
The committee also endorsed first-term incumbent Karine Patino, the first-ever Mount Kisco Village Board member of Hispanic heritage. It did not endorse a second candidate for trustee, but former longtime trustee Jean Farber also stepped forward last week to announce her intention to return to the board.
Current village Trustee Anne Bianchi is not seeking re-election, opting to run for a Westchester County judge seat instead, Serratore said.
Serratore said he detests primaries because they can get ugly but that the winner will have the "full endorsement" of the committee. He also hopes the defeated candidate would support the victor.
"I hate primaries. I really don't want to preside over one," Serratore said. "But as I said to the committee and anyone else that I've spoken to, this is big-tent Democratic democracy, a lot of voices, lots of opinion."
Abzun, a lifelong village resident who still heads the Mount Kisco Arts Council and established the village's 5K held in September, noted that while her would-be primary opponent has some strong qualities, he hasn't been involved in volunteer efforts in the village or with municipal government.
"I really believe that the role of mayor or our village is not a training wheels type of position," Abzun said. "The mayor needs to have an understanding of the issues in our community and really have a direct connection to residents and businesses. So I really think that it's important for the mayor as a consensus builder to be a good listener, to be engaged to build coalitions of various community members, and I really have those experiences."
She said pedestrian safety, making certain there's a strong telecommunications infrastructure in the village and keeping Mount Kisco one of the more affordable communities in northern Westchester are her top priorities.
Abzun was appointed in December 2021 by Picinich to the board to fill a vacancy created when Anthony Markus became a village justice. She was immediately appointed deputy mayor, then won her own two-year term last year with backing from the committee.
Serratore noted that the committee backed Luzio because there has been growing disenchantment with Picinich within its ranks regarding a few issues, most notably the possibility of a proposed cell tower relocation to a portion of Leonard Park and her support for the mixed-use Kirby Commons proposal near the train station. That proposal was defeated in a split vote by a previous board.
They also liked Luzio's strong ethics work in his professional capacities, particularly in the light of a few votes that had been taken by members of the village's volunteer boards where a recusal would have been more appropriate, he said.
Meanwhile Abzun is viewed as being too closely aligned with Picinich, although the committee is appreciative of the work she has done with the arts council.
"She has been a disappointment on the board, largely being a rubber stamp vote for the current administration," Serratore said in a statement.
Abzun said she found that curious because her positions haven't changed since the committee's endorsement of her last year and it wasn't an issue then. Her decision to run is motivated by the satisfaction derived from helping the community.
"I found that I really enjoy working in village government," she said. "I've become more connected to the community and that work is very fulfilling to me, and the knowledge that I've gained through my lifetime…it just is very rewarding and seems to be a natural progression."
Picinich, who also received Democratic back said her decision for bowing out was "a self-imposed term limit," since she believes that elected office is not something that one should build a long-term career around.
She pointed to a list of accomplishments that included adoption of a community-engaged Comprehensive Plan update; reducing storefront vacancies from 21 to about 12 percent; agreeing on a second five-year contract with the county for police services that is favorable to the village; aggressively upgrading Mount Kisco's aging infrastructure; and moving forward with the firehouse upgrades despite architect miscalculations.
A decision on potential cell tower relocation is expected before her term is up in December, Picinich said.
Picinich was clear she would be supporting Abzun, Farber and Patino in this year's election.
"Lisa Abzun is very clearly highly, highly qualified, especially as the current sitting deputy mayor, to do the job," Picinich said.
"I think having all three of them seated at the board table will be beneficial to the community," she added.
Farber, who previously served on the board from 2010 to 2020, said her love for the village sparked her candidacy.
"I'm just intertwined so deeply in this village, it's meant so much to me," she said. "I've been so involved and I'm bringing the community involvement to light."
Farber is also backing Abzun and Patino in their campaigns.