Mt. Kisco, New Castle to See Small County Tax Reduction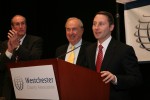 Westchester taxpayers will see a wide variance in tax rates next year related to the recent approval of next year's county budget.
Although the county approved a $1.7 billion spending plan for 2013 that maintains a $548 million property tax levy for the third consecutive year, residents in different municipalities will see much different tax increases or reductions. The rates were released on Friday by the Westchester Tax Commission.
Different rates apply in each municipality because communities assess properties at different levels of full value and property values don't go up and down uniformly from community to community. As a result, the amount owed by each municipality to the county changes from year to year.
A state equalization rate is applied to each municipality so that the tax can be fairly apportioned.
"The county has done its job to hold the line on our county property tax," County Executive Rob Astorino said on Friday. "However, every year the county tax levy affects local governments differently."
Taxpayers in 14 towns or cities will see a decrease in their county tax rate while those in another 11 municipalities will see their taxes rise. The City of Mount Vernon fared the best with a 7.67 percent tax rate decrease for next year while the City of Rye will see its county taxes jump 7.46 percent.
Locally, Mount Kisco and New Castle taxpayers catch a small break with tax rate reductions of 1.54 and .45 percent, respectively. Meanwhile, county taxes in Mount Pleasant will increase 1.22 percent and by 3.25 percent in North Castle.
Other significant decreases include White Plains' 6.07 tax rate reduction with the Town of Ossining clocking in at 5 percent. The other biggest increases are the Town of Scarsdale at 6.33 percent and the Town of Harrison at 5.73 percent.
On Dec. 7, the county approved its 2013 budget by a 9-0 count. The Board of Legislators' seven Republicans were able to agree with Democrats Michael Kaplowitz (D-Somers) and Virginia Perez (D-Yonkers) on a compromise budget while the board's eight other Democrats walked out on the meeting.