Mt. Kisco Honors Tireless Volunteer Who Helped Those in Need
News Based on facts, either observed and verified directly by the reporter, or reported and verified from knowledgeable sources.
We are part of The Trust Project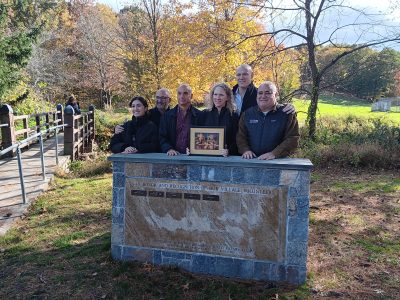 During his more than 35 years living in Mount Kisco, Mel Berger helped improve the lives of countless village residents.
On Sunday, the community recognized him for his years of service and dedication to others in a ceremony at one of his favorite locations – Leonard Park.
Berger, who founded the Mount Kisco Drug and Alcohol Abuse Prevention Council, the village's Drug Court and whose idea to help the village's homeless population led to the establishment of the Emergency Shelter Partnership, had his name included on the village's Wall of Honor at the park, the fifth person to receive the distinction since it was established in 2018.
He also served as Mount Kisco's representative to county Communities Task Force.
"What I remember most about Mel was his compassion and his determination, his determination to make a difference in the lives of the most unfortunate members of our community," said Conservation Advisory Council (CAC) Chair John Rhodes who submitted the application to have Berger included. "He was very good at building coalitions and working with businesses. He also knew that very often you have to work personally when the need is there."
The ceremony, attended by his children, local officials, friends, neighbors and fellow volunteers, took place at the Wall of Honor near the footbridge to the park's Tea House on a crisp but beautiful autumn afternoon. The bittersweet part of it was that Berger was not around for the recognition. He died in October 2021 at 83 years old.
Nan Miller, who first met Berger when she became coordinator for the council in 1996, recalled his tireless support to get help for people who suffered from drug and alcohol abuse.
In fact, it was his career as a pharmacist – he had been co-owner and then the sole owner of Mt. Kisco Pharmacy – where he saw firsthand the debilitating impacts of drugs, including rampant use of painkillers.
When Berger was determined to get things done, he doggedly pursued them and got things done, Miller said. In 2012, his work for the council, which has since comet to be known as Mount Kisco Partners in Prevention, helped get a five-year grant for the organization.
Through his efforts, he also was able to sign up about 20 area houses of worship to participate in the Emergency Shelter Partnership, an organization that was found after a homeless man froze to death nearly 20 years ago. It provides overnight shelter and food from fall to spring.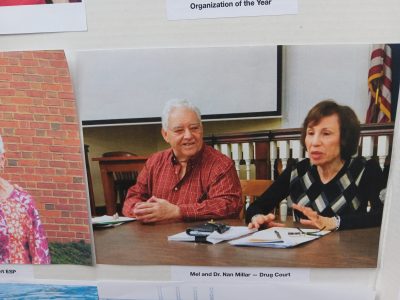 "Mel was an unassuming, humble man who pursued his causes relentlessly," Miller said. "He was dedicated to public service and helping others. He touched the lives of many, many residents and was widely known for his caring, his kindness and his generosity."
Mayor Gina Picinich said since Berger's death it has been a challenge to oversee the many roles that he participated in to help so many people in need.
"His absence has really left a void in our village, because at this moment in time, more than ever before, we really do need greater compassion for those who have addiction problems, for those who are unhoused," Picinch said. "It's important that we all step up and follow in his footsteps to exemplify that level of high regard for others because he really believed that everybody has the right to live with dignity and just needed some help to get there."
Over the years, particularly after the Drug Court was founded in 2003, Berger was a constant presence during the Thursday evening court sessions, looking to help non-violent offenders who had run afoul of the law related to addiction, Village Justice Mark Farrell said. The Drug Court seeks alternatives to prison sentences.
"Mel was not a bleeding heart by any means, but he responded to a need and he sought out ways to address the need, and but for Mel, many people who came through the court would not be where they are today, in a good way," Farrell said.
His children, Michael, Jonathan, Craig and Megan, attended the ceremony. When they found out their father would be honored, they knew they needed to be at the park, including Craig Berger who came from his home in San Francisco to be on hand.
Berger would have loved the honor, they said.
"So the fact that we're giving him this honor in this great location is just something that I know that we're all touched by as a family, but that he would just be overjoyed," Megan said.