News Based on facts, either observed and verified directly by the reporter, or reported and verified from knowledgeable sources.
Mt. Kisco Farmers Market Gearing Up for Second Full Season
We are part of The Trust Project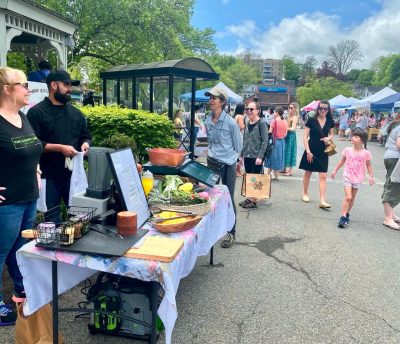 With trees and flowers blooming, there's no doubt that spring is well underway. In some communities, that means the return of local farmers markets.
The Mount Kisco Farmers Market is a month away from coming back for its second full season with spring-to-fall offerings that organizers are hoping will continue to improve and attract shoppers each Sunday morning throughout the five-month season.
Opening day is Sunday, May 21 at the South Moger Avenue municipal parking lot near the train station from 10 a.m. to 2 p.m. The market will be open every Sunday through Oct. 29.
This year, the market is striving to not only entice shoppers to support as many as 40 vendors a week, but to become a community gathering place and to showcase downtown Mount Kisco, said Nicole Sturomksi, founder of WMN Unite, an organization that helps operate the market and getting it off the ground in 2021.
"Our goal in 2023 is to increase foot traffic, shoppers and focusing on more community programming, that would include music, cooking demonstrations and kids' activities to make the market even more fun and exciting," Sturomski said.
The market is aiming to have live music virtually every week and an open mic as well as attract families with face painting and a bouncy castle for children, a food truck, crafts and community tents to invite visitors to hang around for a while, she said.
While an array of activities can help, for a market to be successful it's still about the products that are sold by the vendors. Sturomski said that this year the Mount Kisco Farmers Market is aiming to have 40 vendors a week offering a variety of fresh fruits and vegetables, prepared foods and a variety of healthy products.
Among the vendors will be Cucina alla Fra selling traditional Italian specialties; Pro Brother's Farm that will have a wide variety of greens, herbs and seasonal crops; Note Perfect Coffee Company; Lickety Sweets Gourmet and Gail's Goodies for those with a sweet tooth; and several crafts vendors.
"We had a lot of positive feedback," Sturomski said. "The community enjoyed the camaraderie and the consistency of the market and the offerings that we had. They're happy about the buzz that's returning to Mount Kisco."
When the village opened the farmers market during the summer of 2021 for a test run for one Sunday a month, the idea was also to gauge interest in having a Sunday market. Many of the area markets are open on Saturdays.
Sturomski said that it appears that the Sunday market has found its niche, and that there is enough of a demand for markets in the area that Mount Kisco's operation has been steadily gaining momentum.
"We're trying not to compete with the neighboring markets and give people time to go to church and do their activities before the market on Sunday," Sturomski said. "They can come and have lunch and do their weekly shopping and have their weekly staples."
For more information about the Mount Kisco Farmers Market, visit www.mkfarmersmarket.com.