Mt. Kisco Celebrates Latest Leonard Park Improvement With Playground
News Based on facts, either observed and verified directly by the reporter, or reported and verified from knowledgeable sources.
We are part of The Trust Project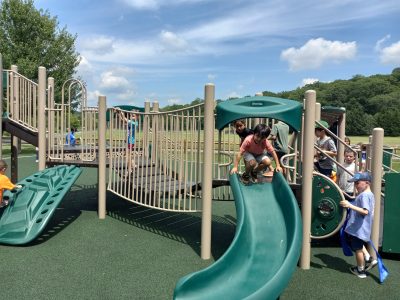 Mount Kisco unveiled a new adaptive playground and swing sets during a ribbon-cutting ceremony last Friday, another of the ongoing improvements that have been made at Leonard Park.
The $250,000 project, which was funded in part through a State and Municipal (SAM) facilities grant secured by state Sen. Peter Harckham (D-Lewisboro), also saw the village's Recreation Department contribute $24,000 in fundraising efforts. The balance of the money was obtained through Mount Kisco's capital improvement plan that was funded by taxpayers.
"This project is actually a reflection of our continued investment to maintain and improve the recreation opportunities in the village and specifically here at Leonard Park," Mayor Gina Picinich said.
Village Manager Ed Brancati said the new pieces of equipment were installed starting last fall and the job was finished this spring and ready for use by about June 1. The apparatus, which accommodates children of various abilities, is an increasingly popular feature for playgrounds around the area.
There are now three different types of swing sets, the more traditional belt swing for older children, and two different types of bucket swings, for the youngest children, which was actually replaced, as well as a larger bucket swing for slightly older kids.
Getting the updated playground equipment was something that Recreation Committee Chair Christine Dennett and others on the committee and the Leonard Park Committee had worked to get for many years.
"I joined with the goal of having an inclusive playground," Dennett said. "My son has an IEP and I just think it's very important that every child has the ability to feel included."
Mount Kisco Recreation Superintendent Kyle Thornton said in a short time the new play equipment has been extremely popular with children and families. Even before work completed, children were looking to give it a try.
"This is a project that's near and dear to all of us that have children and this is something we could not keep the kids off of it as we were building this," he said. "So you can see, all day long, every single day, there are kids on these playgrounds and we will keep improving these playgrounds and other playgrounds around town."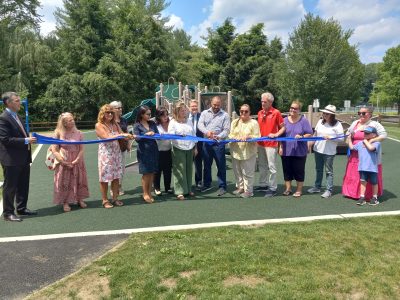 Harckham said that he has delivered similar grants to other communities specifically for adaptive playgrounds throughout his district, a crucial feature that allows children with both physical and intellectual challenges to do what comes naturally – to play and have fun.
"It is so important that kids who play differently and learn differently have the exact same opportunities of inclusion as every other child, and that's what this will do," Harckham said.
The grant was not the first time that state money has been brought home to fund specific improvements recently at Leonard Park. Brancati said Harckham also obtained $100,000 to go toward tennis court improvements, a $350,000 project, while Assemblyman Chris Burdick (D-Bedford) picked up $125,000 for last year's volleyball and bocce court, which represented about 60 percent of the cost for that work.
Other completed projects at the park have included the realigning of the main dive pool for $275,000, resurfacing the floor of the multipurpose gym for between $60,000 and $80,000 and new fencing.
On Monday night, the Village Board was scheduled to go out to bid for work on the main pool, an anticipated expense of about $460,000, Brancati said. Once the summer is over, the village will begin work on the pool and look to reopen it for next Memorial Day.
Future work is likely to include ball field improvements at the park and at the fields at 333. N. Bedford Rd., he said.
In addition to state money, the village also put out a million-dollar bond for recreation improvements to pay for the work at the park, Brancati said.