Mr. Brewster Competition Raises $30K for Cystic Fibrosis
We are part of The Trust Project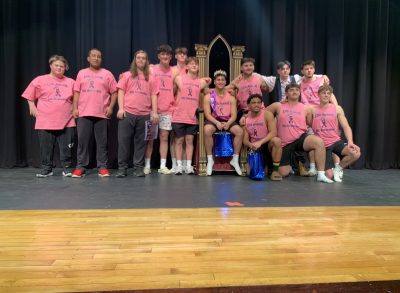 There he is…Mr. Brewster.
On a bulletin board outside the high school auditorium, the smartly dressed contestants appear in 14 glossy photographs. Recently, students vied for the title of Mr. Brewster, a male talent contest held annually since 2011.
Although it is always light-hearted and amusing, the event is not just for laughs. It has raised more than $400,000 for Cystic Fibrosis research. This year alone, contestants raised $30,757.73.
Marla Egan, advisor of S.A.L.T.Y. Hands Club–Saving a Life of Today's Youth, produces the annual show. Like a traditional beauty contest, the event begins with the contestants walking the stage in formal attire. The boys wear suits. Next up is an icebreaker to ease their nerves before the dreaded interview question. After that is the six-minute group dance.
"The crowd loved Connor Griffin and Pat Ford's duet to "I've had the Time of My Life," especially the lift at the end. The crowd also went crazy for the Career Skills boys' dance to Montell Jordan's "This is How We Do It," said Egan.
In the talent section, contestants showed off their skills, or lack thereof, with an activity of their choosing. This year, contestants sang, played piano and told jokes. Massimo Parrello and Joey Anfuso dressed up as old men in rocking chairs telling 'dad' jokes.
Connor Lopez stole the show with his rendition of Bruno Mars' "When I Was Your Man." He played piano, sang and threw roses into the audience. The Cutest Baby winner, Julius Waters, was announced, followed by the winner of the whole show, Alex Rienzi, who single-handedly raised more than $5,500.
Coach and teacher Matthew Cunningham was emcee for the evening.
The judges, Carlos Rodriguez, Larry Maggiotto, Andy Kurtz, and Don Polverari, rated the performances of each contestant in the interview, the group dance, and the individual talent section.
"The highlight of the night was watching our career skills students participate- their dancing was incredible and they put tremendous effort into raising money," said Vice Principal Rodriguez. "The event is important because cystic fibrosis is such a debilitating illness for those who live with it."
Prior to the contest, participants spoke about their motivation.
"Mr. Brewster represents the values of community, hard work, and charity that were instilled in me from a young age by my parents and older siblings. It brings the entire Town of Southeast together to raise money for a worthwhile cause," said Rienzi, adding that his brothers and sister also contribute to the school and larger community. "Brewster fundraisers like this define my values. It is a legacy I am proud to be a part of and would like to continue as a contestant for Mr. Brewster."
For contestant Tyler Sherman, "Being a part of Mr. Brewster means that I get to be a part of my community and help to make a change.  I love what the Salty Hands club has done with Mr. Brewster and how the group has consistently raised money for the Cystic Fibrosis Foundation each year." Sherman added that his baby cousin, who was diagnosed with cancer at one year, had benefited from community fundraisers. "It was thanks to a similar program to this that he was able to get the best treatment and is thankfully still with us today."
Matt Ryan said, "I believe in the power of art to bring people together. By performing in this show, I can help create a sense of community and solidarity among those affected by cystic fibrosis. I can also use my performance to bring joy and hope to those who are struggling with this disease.  Cystic fibrosis is a life-threatening genetic disorder that affects the lungs and digestive system of those who suffer from it. It is a devastating disease that affects thousands of people around the world, and I want to do my part to help those affected by it."
This is a press release provided by the organization. It has been lightly edited and is being published by Examiner Media as a public service.