Mount Pleasant Unveils Vietnam Monument at Veterans Day Ceremony
We are part of The Trust Project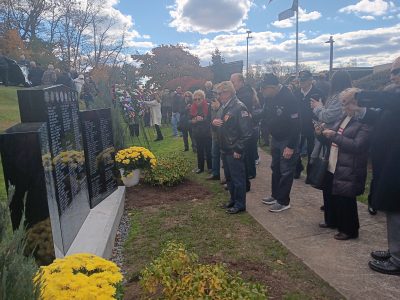 For years, Mount Pleasant Supervisor Carl Fulgenzi had wanted to have a monument at Town Hall commemorating the service and sacrifice of Vietnam veterans.
Last Saturday that goal was realized.
Joined by a large crowd of a few hundred veterans and residents, town officials unveiled the solid granite monument during a Veterans Day ceremony, the latest to be added along the Mount Pleasant Military Walk of Honor on the grounds of Town Hall in Valhalla.
It contains 290 names of Mount Pleasant residents whose service in the military was verified during the Vietnam War era, from about the late 1950s until1975. Seven of those men – William Torpie, Wayne Johanson, Daniel T. Joyce, Howard M. Pyle Jr., Raymond G. Krobetzky and brothers Anthony C. and Jonathan C. Shine – were killed in action during the war.
Fulgenzi said that as the son of a World War II veteran he had tremendous respect for those who served, something that many Vietnam veterans never received when they returned.
"Some volunteered, some were drafted. They all fought for us and too many died for us," Fulgenzi said during the ceremony. "Neither received their country's glory or the compassion they deserved coming home. May this monument, built on a foundation of gratitude, serve as our unending tribute to you all. Welcome home, soldiers."
The supervisor credited the Town Board for their support and Jim McCauley, a Vietnam veteran who grew up in Hawthorne and is involved in many veterans' causes, for helping to spearhead the effort to see the monument become reality.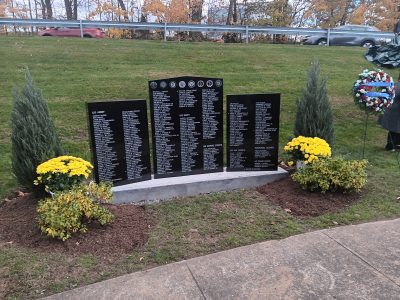 McCauley said he and the Town of Mount Pleasant had talked about erecting a Vietnam monument since before the onset of the pandemic, but once COVID-19 hit, there were other priorities. Now that it's in place, it's an awfully good feeling, he said.
"Better late than never, and it's just so nice to see all the people here. So many widows and kids of guys who died." McCauley said. "Although I've lived in Chappaqua for 45 years, I'm close enough where I see a lot of these people."
McCauley said to be included on the monument, one didn't have to go to Vietnam, but simply but serve during that time period. There is room on the monument for additional names, which will almost certainly surface, he said.
During the ceremony, wreaths were placed near the new monument to remember the seven service members who were killed in Vietnam.
It was created by Saracino Monuments, which also did the town's 9/11 memorial near the flagpole. Mark Saracino, whose business did the work, said the carving of the names was a labor-intensive process. Using stenciling and sandblasting, the carving of the names took six full work days after the large granite stone was prepped.
Fulgenzi said the town hopes to receive state funding for the project, which cost between $30,000 and $40,000, to at least offset some of the expense. His office is in contact with state Senate Majority Leader Andrea Stewart-Cousins (D-Yonkers), who represents the district, and Assemblywoman MaryJane Shimsky (D-Dobbs Ferry) in hopes that funding comes through.
"I'm proud of that fact, that we were able to do this, and it was long overdue," Fulgenzi said. "It'll be here forever, and our veterans are being recognized the way they should have been a long time ago."
Councilwoman Laurie Rogers Smalley said it was crucial for the town to recognize the Vietnam veterans because they were "the forgotten soldiers." The anti-war sentiment was so strong from the late 1960s into the '70s, that a large portion of the nation forgot about the men that were there.
"It's very important Mount Pleasant remembers them," Smalley said. "It's been so many years, and they were the forgotten soldiers, and that's something we always have to remember, that they were there and they fought for freedom, not only for us but for the people of southeast Asia."