Mount Kisco Unveils Westchester's First Community Solar Storage Project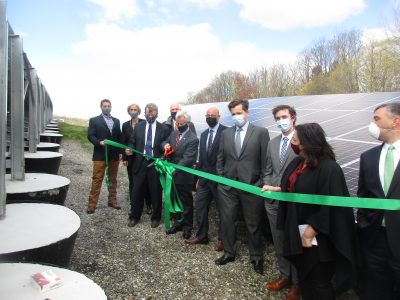 The Village of Mount Kisco celebrated Earth Day last Thursday by cutting the ribbon on Westchester's first municipal community solar and battery storage project on a capped landfill to help support renewable energy.
Generating 575 kilowatts, the repurposed 1.5-acre parcel at the end of Columbus Avenue, which had laid fallow for more than two decades until the 1,750-solar panel array was installed late last year, now generates energy for more than 100 customers in the village.
Mayor Gina Picinich, who hosted a wind-blown press conference at the site, said the village is happy to do its part in helping New York State reach its goal of being powered by 70 percent renewable energy by 2030.
"Everyone has a part to play, an important part in all of this, to ensure that we meet not just those goals but that we do what is right in order to ensure that we can live onward in a clean planet," Picinich said.
The village partnered with BQ Energy, a Wappingers Falls-based company that specializes in using brownfields sites and capped landfills for wind turbine and solar projects, and Sustainable Westchester, which performed community outreach and enrolled subscribers. Technical expertise was provided by the NY-Sun team at the New York State Research and Development Agency (NYSERDA), which provided about $900,000 in solar and energy storage incentives for the initiative. The federal Environmental Protection Agency (EPA) performed the comprehensive solar assessment for the site.
Mount Kisco is receiving $100,000 a year in its lease agreement with BQ Energy for the land over the next 25 years, Picinich said.
Paul Curran, BQ Energy's managing director, said what has made this project unique for the company and in Westchester are the use of battery units that are able to store energy and release it when there is more demand, such as in peak consumption days in summer or if there happens to be a stretch of time when the sun isn't shining brightly. It also allows storage of excess energy for the grid.
It is a model that will be replicated across the region, state and nation with solar projects in the years ahead, he said.
"It makes renewable energy usable for the people of Mount Kisco, for people in the area, but also for the grid in general," Curran said. "It's an incredibly important landmark that can be replicated and that is something that renewable energy really needs to do."
NY Green Bank provided a $2.27 million loan for the project.
Although many renewable energy projects slowed because of the pandemic, David Sandbank, vice president of distributed energy services for NYSERDA, said it oversaw more projects in 2020 than in any other year. He said turning a landfill that was no longer of value to anyone provide energy, help the environment and provide local governments with an additional revenue source makes it a benefit to everyone.
Another advantage is that it's community solar, said Sandbank, which can also provide homeowners who don't live in areas that are conducive to having their own panels and renters to participate.
"We're sending price signals to projects like these, and we're saying, hey, if you can produce electricity when the grid needs it the most, we're going to pay you more for it," Sandbank said. "Sometimes that's when the sun's not shining, sometimes that's when the sun goes down, so we're sending price signals to this particular project right here, and they're able to create, to generate more income just by having that battery storage, they're providing the grid with the electricity when it needs it the most."
As of last October, there were 417 renewable projects on contaminated lands across the United States under the Repowering America initiative, said Walter Mugdan, EPA acting regional administrator for Region 2, which includes New York. Of those, 245 solar installations have been placed on landfills and landfill bugger areas, he said.
In New York, the EPA has assessed nearly 50 sites, almost all of them landfills. Six are operational, including Mount Kisco, which went on line late last year, and a seventh will be running this summer, Mudgan said.