Mount Kisco Rally Calls for Return of Hostages Held in Gaza
News Based on facts, either observed and verified directly by the reporter, or reported and verified from knowledgeable sources.
We are part of The Trust Project
Three weeks after a shocking terrorist attack against Israel, congregants of Bet Torah synagogue in Mount Kisco gathered outside Village Hall to deliver a simple message about the men, women and children held hostage in Gaza: Bring them home.
Braving a steady rain throughout Sunday's rally, more than 200 congregants and other community members came to show their support, many holding posters baring the faces of kidnap victims and some waving or holding Israeli flags.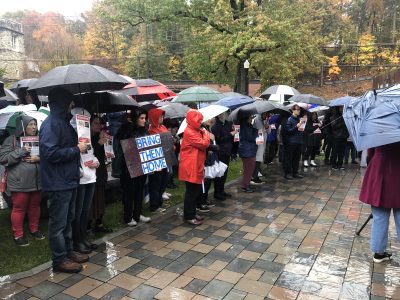 The Oct. 7 attacks by Hamas left about 1,400 Israelis dead and nearly 250 more held captive.
"It is incumbent upon all of us to speak loudly and speak boldly and fight against anti-Semitism," Mount Kisco Mayor Gina Picinich told the crowd. "And there should be no question or doubt that the taking of hostages is a reprehensible terrorist action."
Bet Torah Senior Rabbi Aaron Brusso said that he and others from the congregation had often spoken out when other communities faced adversity. Now, he spoke out again in the face of the deadliest attacks against Jews since the Holocaust and amidst a wave of anti-Semitism in countries around the world.
"Because of mythical understandings of my community that prevents people from seeing our vulnerabilities, because of overly simple understandings of power that prevent people from seeing our vulnerabilities, I must stand here and ask that the Jewish community feel safe and loved too," he said.
Between speakers, Bet Torah cantor Gil Ezring played songs on his guitar including "Go Down Moses," whose refrain fittingly ends, "Let my people go." The names of more than 200 people held by Hamas were read aloud, along with each hostage's age and nationality. The rally ended with Ezring playing Hatikvah, Israel's national anthem.
"It gives hope to see so many of us together despite the cold, rainy, conditions," said Rabbi David Wilfond of Temple Shaaray Tefila in Bedford Corners. "We will not surrender our hope. We hope and pray for shalom, for peace, may it come soon when all will sit under their vine and fig tree and no one shall make anyone afraid."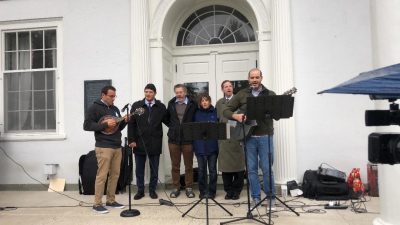 The attacks, during which thousands of Hamas terrorists infiltrated Israel from Gaza and killed hundreds in southern Israel, have shaken Westchester's Jewish community, which comprises about 14 percent of the county. For the last two weeks, posters with pictures of hostages calling for their release have been seen on street posts across Westchester.
An Oct. 10 rally in White Plains, one of the first local events after the attacks, drew as many as 1,500 people, according to published reports.
Sunday's rally filled the square outside Mount Kisco Village Hall with Israeli flags and umbrellas. Chappaqua resident Joanna Segal, who said her family has been going to Bet Torah for 20 years, said the rain would not stop her from making her voice heard.
"A little rain is nothing in comparison to what our brothers and sisters in Israel are going through right now," she said. "To be able to bring the hostages home, rain is not a deterrent."