News Based on facts, either observed and verified directly by the reporter, or reported and verified from knowledgeable sources.
Mount Kisco Closes Eminent Domain Hearing for Cell Tower, Solar Farm Site
We are part of The Trust Project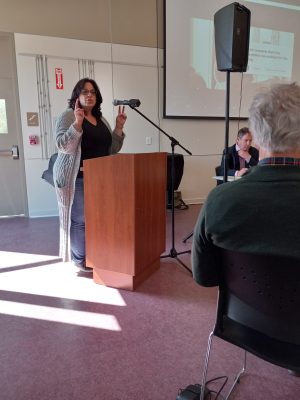 Mount Kisco officials closed a public hearing last week on whether to obtain a key parcel through eminent domain while hearing continued criticisms from those opposed to the action and sitting a cell tower in Leonard Park.
Written comments will continue to be accepted by the village for 20 days following the Village Board's May 16 meeting on the proposal to launch proceedings regarding the 25 acres at 180 S. Bedford Rd. The village's Planning Board has been entertaining applications from Homeland Towers for a 140-foot monopole at the site as well as a solar farm from another applicant for a different portion of the property over the past two years.
While the issues of whether to pursue eminent domain proceedings and moving the tower to Leonard Park are separate, Mayor Gina Picinch said last week the board will need to make a decision in time for the start of next year's state legislature session on which land it would designate as replacement for using up to 5,000 square feet at Leonard Park in the vicinity of baskets 6 and 7 of the disc golf course. That does not include an estimated 550-foot-long, 12-foot-wide access drive leading to the tower.
The choices to replace parkland is either 180 S. Bedford Rd. or acreage on Kisco Mountain.
Picinich said the board, which voted to move ahead with the extensive alienation process in March, said the next step would be to negotiate a conditional lease with Homeland Towers. Last week, she stressed that the lease could only be executed after the village completes the environmental review required by the state and determines whether it can receive the necessary state approvals.
"So all of the things are steps that are conditional and need to come to a successful completion," Picinch said.
Picinich's assurances did little to quell the angst of residents who have been against spending up to an estimated $3.6 million to buy 180 S. Bedford Rd. and putting a cell tower in the park. Former mayor Michael Cindrich appealed to the board to take Leonard Park off the table from consideration as the home for the cell tower.
"Three, four million dollars can be better spent with curbs and paving roads and not more trails if that's going to be one of your decisions, and I think it's going to be a difficult decision because which is more important, an existing park, Leonard Park, or we're acquiring property (that) may never be used as a park," Cindrich said.
Resident David Grant, who would likely be the closest resident to a tower at the park at about 1,000 feet away, said he found it "noble" that the board is looking to protect one or two residents who would be severely affected by placement of the tower at 180 S. Bedford Rd. However, the answer isn't spoiling Leonard Park, he said.
He urged the village to fight in court, if necessary, since it has already been saddled with two other towers within its borders. Some residents have called on the board to work with the Bedford Historical Society to put commercial carriers on an existing tower for emergency services on land that was deeded to the organization.
"Your citizens want to see you fighting for us, not giving up and sacrificing our park," Grant said. "We want you to spend the money fighting this and either save our park or go down swinging."
Village officials have said fighting placement of a tower would likely be a losing proposition, particularly since Mount Kisco's own telecommunications consultant has agreed with Homeland Towers that there is a coverage gap along the Route 172 corridor.
During a Village Board work session with representatives from Homeland Tower that preceded the hearing, Homeland President and CEO Manny Vicente said there has been a documented coverage problem. Federal telecommunications laws force municipalities to make a decision to site a tower if there's a demonstrated need.
While there may be better sites than 180 S. Bedford Rd. or the park, Homeland Towers needs to be allowed by the property owner to use the land, whether that's a private owner or a municipality.
"We do like working with municipalities. We do think municipalities should be involved in the decision-making process, should have as much control over the decision making as possible," Vicente said. "But it's important for everyone to understand the need, which is what brings us here today. That need is why we're here and is why you need to make the difficult decision."
However, resident Louis Terlizzi, during the regular meeting, continued to plead that it shouldn't be in Leonard Park.
"You're stewards of the park," Terlizzi said. "They can't put it in the park if you say no, so that's what we're asking. Do it for the children, please."
The Village Board has up to 90 days to make findings and up to 36 months to pursue eminent domain proceedings if that's what it chooses, said Village Attorney Whitney Singleton.