Mount Kisco Celebrates the Local Folklore of Washington Rock
News Based on facts, either observed and verified directly by the reporter, or reported and verified from knowledgeable sources.
We are part of The Trust Project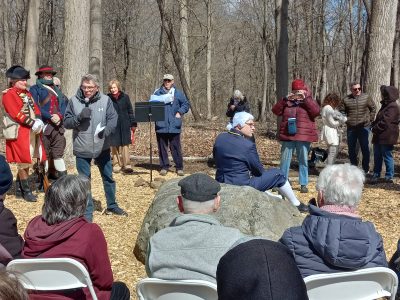 There's plenty of lore associated with George Washington throughout New York and wherever he may have traveled during his time. Mount Kisco also has a great story to tell.
The village's Historical Society on Sunday unveiled and dedicated a historic marker in what was once an overgrown wooded area off Route 117 to commemorate what is known as Washington Rock, almost directly across the street from the present-day Ben & Jerry's ice cream shop.
A story has been handed down through the generations that as Washington and his troops traveled northward after the Battle of White Plains en route to Peekskill to eventually cross the Hudson River, he and his officers stopped on Nov. 10, 1776, to have dinner and sat on the rock that is there today.
It almost doesn't matter whether the story is true or if there have been embellishments over nearly two-and-a-half centuries, Mount Kisco Historical Society President Ralph Vigliotti said. The documented history is ample enough to know that what is current-day Mount Kisco and surrounding communities was a hotbed of activity during the Revolutionary War.
"What the important thing is George Washington did travel through what we know today as Mount Kisco to get to Peekskill, and along the way he stopped at St. George's Church to see the sick and the wounded soldiers with his troops," Vigliotti said. "The legend of looking across the triangle at this rock, and having dinner may be palatable, but it's just fun, and a fun story."
St. George's Church, which was founded in the 1760s, was renamed St. Mark's Church in the 1850s, and has been at its current location at the intersection of Route 117 and East Main Street for more than 100 years, said its current pastor, Rev. Kyle Martindale, who dressed up as George Washington for Sunday's occasion and made sure to sit on the rock.
Maps of the area dating back more than 150 years include Washington Rock on those sketches.
The historical society received the marker, which is located just off the sidewalk on Route 117, from the Pomeroy Foundation's Lore and Legends grant program. It states that "Washington Rock on November 10, 1776, George Washington sat upon this rock and at his dinner before marching his troops to Peekskill. New York Folklore."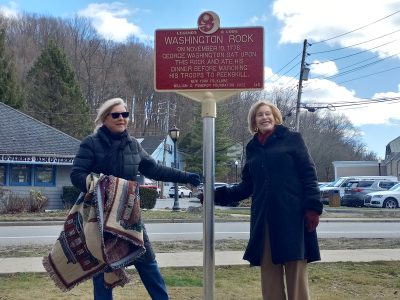 "We are grateful for the grant that enables us to mark this beautiful, historic location for residents and visitors to enjoy for generations to come," said Mount Kisco Historical Society Vice President Michael Kirsch, who also chairs the village's Historical Preservation Committee.
Village Historian Harry McCartney said another documented piece of history is how 5,000 of Rochambeau's troops had one of their 37 encampments between Rhode Island and Yorktown, Va. at the site of today's Northern Westchester Hospital.
During the country's fight for independence, the local area was a war zone, he said.
"So, basically, right within a block of where we are all of these events took place," McCartney said. "That's why Mount Kisco is so unique on so many different fronts."
Vigliotti also told the story of how also a local eight-year-old girl, Mary Weeks, saw Washington and his troops and became frightened of the men. Washington told Weeks not to worry.
While that is also folklore, there is a Mary Weeks buried in the Quaker Cemetery in Chappaqua who would have been of that age, he said.
Local officials hope the area around the rock can be transformed in the future into a park to invite people to sit near where Washington may have stopped to enjoy a meal.
Several years ago, the rock was hidden from view under overgrown brush and trees, Mayor Gina Picinich said. There were also invasive species of plants, but dedicated community members toiled to clean up the area.