Motorist Gets Stuck on Metro-North Tracks in Chappaqua
We are part of The Trust Project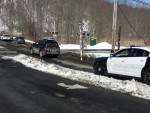 A driver became stuck on the Metro-North train tracks at the Roaring Brook Road crossing in Chappaqua Saturday morning but was eventually able to back out of harm's way.
New Castle police received a call at about 10:50 a.m. that a vehicle was trapped on the tracks between the crossing arms after the gates lowered. The desk officer immediately alerted the MTA to halt any trains and have the MTA police dispatched to the scene, said New Castle Supervisor Robert Greenstein. Town and county police also responded, Greenstein said.
The driver, later identified by MTA police as Cynthia Parent of Mount Vernon, was able to put her car in reverse but broke off one of the crossing arms that had lowered. There were no injuries.
The crossing, which is on the same Harlem line where six people were killed in an accident in Valhalla last month, was where Rep. Nita Lowey and Rep. Sean Patrick Maloney held a March 2 press conference with local and county officials demanding that federal money be authorized to make railroad crossings safer.
Last Wednesday, the House overwhelmingly passed two key provisions written by Maloney as part of the Passenger Rail Reform and Investment Act that would provide $300 million for rail crossing improvements and positive train control.
Greenstein said during last Monday's press conference Lowey and Maloney mentioned that the gates are designed to break away, possibly avoiding another accident. But Saturday's close call is also a reminder why the funding to make grade crossings safer is urgently needed, he said.
"Today's incident reinforces the need to eliminate these on grade railroad crossings," Greenstein said. "We will continue to do everything we can to prevent another tragedy from happening, including educating the public on railroad crossing safety."
It was not immediately known how Parent's car came to be on the tracks when the gates lowered.
The crossing, which is in close proximity to the Saw Mill Parkway and Chappaqua  Crossing (the former Reader's Digest campus), has long had a problem with congestion. It is also about a half-mile from Horace Greeley High School.
"It is clear that improvements to the Roaring Brook Road grade crossing and Saw Mill River parkway interchange are long overdue and urgently needed to prevent another tragedy from occurring," Greenstein said.
New Castle Police Department records show that over the past 10 years, problems with the gates at Roaring Brook Road were reported 14 times, he added. There have also been numerous car accidents at the location. County records indicate that 490 accidents have occurred at that interchange since 2006, Greenstein mentioned.