More COVID Deaths Reported in Westchester County, Putnam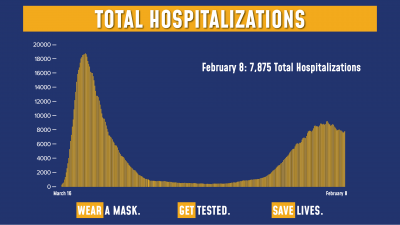 Coronavirus cases in Westchester County increased by 459 on Tuesday, bringing the total number of positive cases to 98,904 since the start of the pandemic.
There are now 8,239 active cases, a decrease of 177 over the previous day, state data shows.
The county's daily positivity rate is 6.62 percent, with 6,929 tests administered Sunday. Overall, more than 1.86 million COVID-19 tests have been dispensed in Westchester since March.
The county reported eight more deaths on Tuesday, bringing the COVID-19-related death toll to 1,984, according to the state tracker, There have been 13 virus deaths this week, with 309 fatalities since Jan. 1.
As of Saturday, there are 491 virus patients in Westchester hospitals, a 10 percent decrease from two weeks ago.
Putnam County's total caseload reached 7,656, with 31 additional positive cases recorded on Tuesday, state data shows. The county's daily positivity rate is 5.88 percent, with 527 tests administered on Sunday.
Putnam currently has 585 active cases, a decrease of 36 over the previous day.
One more coronavirus-related death was reported, increasing the death toll in Putnam to 83 since the start of the pandemic, state data shows. There have been 16 fatalities in 2021.
Statewide there were 7,866 new positive cases on Tuesday, with the daily positivity rate clocking in at 5.12 percent. Gov. Andrew Cuomo said the states rolling 7-day average positivity rate dropped to 4.38 percent, the lowest it's been since Dec. 1.
There were 138 additional COVID-19-related fatalities, bringing the death toll to 36,481.
Statewide hospitalizations stood at 7,875, an increase of 159 over the previous day. Across New York there have been 1,487,086 positive coronavirus cases since the start of the pandemic.
Vaccine Update
New York's health care distribution sites have received 1,874,975 first doses and administered 92 percent of those or 1,729,089. Overall, the state has administered over 2,136,209 vaccine doses since December.
The Westchester County government has directly administered 40,553 vaccines to eligible residents, with 33,649 individuals inoculated since the County Center became a distribution site on Jan. 13. The county health department has immunized 6,344 people and 560 people have been inoculated at Westchester Community College.
Click HERE to see if you're eligible to make an appointment.
Westchester Active Coronavirus Cases by Municipality
Here are the active cases by municipality in Westchester as of Tuesday. With a lag between the total number of cases confirmed by the state and the tally of cases by town, the total number of municipal cases might be slightly different than what the county's active cases reflects.
Ardsley – 35
Bedford – 113
Briarcliff Manor – 26
Bronxville – 32
Buchanan – 14
Cortlandt – 197
Croton-on-Hudson – 43
Dobbs Ferry – 77
Eastchester – 158
Elmsford – 47
Greenburgh – 291
Harrison – 155
Hastings-on-Hudson – 68
Irvington – 37
Larchmont – 36
Lewisboro – 39
Mamaroneck Town – 53
Mamaroneck Village – 108
Mount Kisco – 68
Mount Pleasant – 217
Mount Vernon – 667
New Castle – 68
New Rochelle – 788
North Castle – 97
North Salem – 34
Ossining Town – 43
Ossining Village – 207
Peekskill – 215
Pelham – 40
Pelham Manor – 38
Pleasantville – 45
Port Chester – 257
Pound Ridge – 20
Rye Brook – 55
Rye City – 67
Scarsdale – 63
Sleepy Hollow – 91
Somers – 147
Tarrytown – 101
Tuckahoe – 51
White Plains – 482
Yonkers – 2,150
Yorktown – 311