'Montrose 9' Pipeline Protestors Use 'Necessity Defense' at Trial
We are part of The Trust Project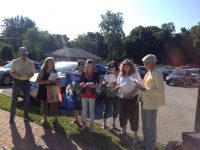 Two of the so-called "Montrose 9" protestors who were arrested last November for disorderly conduct for blocking access to Spectra Energy's construction yard on Route 9A took the stand Thursday as their trial resumed in Cortlandt Town Court.
Linda Snider and Susan Rutman, along with Michael Bucci, Kim Fraczek, Melissa Freedman, Monica Hunken, George Packard, Andy Ryan and Kathleen Thomas, have pled not guilty to the charges as their attorney, Martin Stolar, has contended their actions were justified since they were trying to stop a greater harm in the expansion of the natural gas pipeline on November 9 at 6:30 a.m. and were left with no other recourse after all legal and regulatory options had been exhausted.
"I wanted to stop the Spectra trucks and stop them from putting in this pipeline," Snider testified before Cortlandt Town Justice Daniel McCarthy. "We've just got to stop this."
To date, 53 individuals have been charged in the area with disorderly conduct trying to disrupt the pipeline construction. Along the entire route of the pipeline, 163 arrests have been made.
Two State Police investigators who took the stand last week characterized the actions of the "Montrose 9" in preventing trucks from entering 2071 Albany Post Road, also known as Bobby Tall's property, as "a political demonstration" and "a peaceful protest."
"It was basically a peaceful protest that was blocking traffic," said Senior Investigator Brian Hoff.
Three defense witnesses, Cortlandt Councilman Seth Freach, Yorktown physicist Paul Moskowitz and engineer Paul Blanch, later testified about the dangers of the pipeline.
Moskowitz discussed the radioactive materials that result from the decay of the radon in fracked gas and his concerns about radioactive emissions from the pipeline and how it affects human health.
He called the Federal Energy Regulatory Commission's responses to his concerns "a total fabrication" that "ignored over 50 years of established science."
Blanch, who has more than 50 years of experience in the nuclear industry and has actively opposed the pipeline, maintained there were "very significant unaccounted for risks" with the pipeline and "an unacceptable probability" of a serious or catastrophic accident due to the pipeline's close proximity to the Indian Point nuclear power plants in Buchanan.
Freach discussed his and the Town Board's reservations about public health and safety, noting the board's unanimous opposition to the project.
Approximately 25 supporters were in attendance at the trial, including one man who wore a Bob Marley t-shirt that simply said "Freedom."
The trial is scheduled to resume on Friday, July 15 at 1 p.m., where the other seven defendants are expected to testify. Using a "necessity defense" is unusual in environmental litigation, but the "Montrose 9" and their supporters are hopeful of being successful in what could develop into a landmark case.